Kaizer Chiefs
Kaizer Chiefs full-back Philani Zulu urges South Africa to focus on Afcon 2019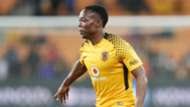 Kaizer Chiefs full-back Philani Zulu couldn't hide his disappointment at Bafana Bafana's failure to qualify for the 2018 Fifa World Cup in Russia.
Bafana lost four of their six qualifying matches and finished bottom of Group D, and Zulu feels the two defeats suffered at the hands of Cape Verde Islands hampered the national team's chances. 
The 25-year-old feels it's time to shift focus on qualifying for the 2019 Africa Cup of Nations. 
South Africa started off well in the Afcon qualifiers, beating Nigeria away from in Stuart Baxter's first official match in charge. 
"It is disappointing that we didn't get to the World Cup but what has happened has happened and there is nothing we can do about it now," Zulu told the media gathered at Naturena on Wednesday.
"We have to work together as a country now to ensure we make it to the African Cup of Nations. If we had won the two games against Cape Verde it would have been a different story going into the Senegal matches," he said.
Furthermore, Zulu dismissed suggestions that South African players are not ambitious enough when it comes to playing for the national team. He feels there are certain things the country has been lacking on.   
"I would not say we are not ambitious enough. As a country we have been lacking in some places which we need to work on. The firepower and the will is something we need to work on not as individuals at teams but as a country," explained the former Maritzburg United player.
Asked about Amakhosi's chances to win this year's Telkom Knockout Cup, Zulu said: "That's the most important thing right now [the Wits game]. We are looking forward to it. It's been three seasons now [without winning a major trophy] if you count this one, and it's all in our hands. We have to win the game on Saturday and then from there look into the final."