Transfers
Kaizer Chiefs and Fosa Juniors still battling for Andriamirado Andrianarimanana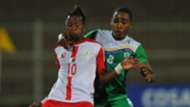 Malagasy club Fosa Juniors will meet before responding to Kaizer Chiefs regarding Andriamirado 'Dax' Andrianarimanana.
The two clubs recently wrote to each other in an attempt to resolve the dispute regarding Andrianarimanana's status, but no resolution has been reached.

Amakhosi have since threatened to take the matter to Fifa if the player is not released to them.
"The only thing I can say at this moment is that we have received correspondence from Chiefs' but the president of the club must still study it properly'" Fosa Juniors spokesman Ando Harivola said to TimesLive.
"We will be meeting later today [Friday] to discuss it' but as things stand Dax is still a Fosa Juniors player," he continued.
Andrianarimanana was recently signed by Amakhosi on a free transfer, but Juniors insist that the player is still contracted to them until 2020.
Dax was expected to join Amakhosi's pre-season camp next week as soon as he obtains his visa, but according to the latest reports, Juniors are in possession of his passport and they will not release it to him.
However, Dax is keen to move Chiefs as a soon as the two clubs reach an agreement.
"I am very happy with my club' but an international transfer would of course be very interesting for my future. Everything will depend on the negotiations between the two clubs'" Dax told reporters.
The player, who was named the 2018 Cosafa Cup Player of the Tournament, could face a two-year ban by Fifa if he's found guilty of signing active contracts with two clubs.
Chiefs have insisted that Dax was signed from an amateur league which means that he is free to sign with them.

However, Juniors have stated that they are one of the four teams in the Malagasy league who have players on professional contracts.