Juventus
Juventus defender Bonucci to be surprisingly benched for Milan clash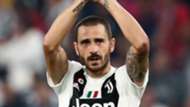 Juventus defender Leonardo Bonucci is set to begin Sunday's clash against former club AC Milan on the bench, Goal understands. 
Bonucci has started 10 of Juve's 11 Serie A matches this season, with the Old Lady beginning the season with 10 wins and one draw in those games. 
Sunday will see Juventus put their unbeaten record on the line at San Siro, with Milan looking to cause an upset. 
But sources tell Goal that Juventus manager Massimiliano Allegri has decided to start Mehdi Benatia instead of Bonucci, with the Morocco international understood to have lined up with the first-team defence in Saturday's training session, meaning he will likely be in the starting side on Sunday. 
Benatia will partner Giorgio Chiellini in central defence, with Joao Cancelo and Alex Sandro on either side of the pair. 
It will be just the fifth start of the season for Benatia, who has been second choice for much of the campaign. 
Bonucci was expecting a torrid time from the San Siro faithful, after he spent last season with the Rossoneri before making an immediate return to Juventus. 
Meanwhile Gonzalo Higuain, who went the other way in that exchange, has been passed fit to face his former club on Sunday.
Juve boss Massimiliano Allegri said ahead of the encounter that neither of the stars set to face their former club needed his advice heading into the tie, and that both clubs had made great signings. 
"I don't have any advice to give to Bonucci," he said. "He returns to Milan, having only been there for a year, but Leo doesn't need my advice."
Allegri also stated that Mario Mandzukic "could well play" in the match despite likely needing a rest, with Blaise Matuidi in much the same boat, though he admitted that had Emre Can been available he likely would have given Matuidi a break. 
Juventus are looking to take a six-point lead into the international break, which the club will do with a win on Sunday. 
Milan are currently in fourth place in Serie A, 10 points behind Allegri's table-topping side and four back of third-placed Inter, who take on Atalanta on Sunday.