Manchester City
JSSL Singapore youngsters get a glimpse of Manchester City's Premier League and Carabao Cup trophies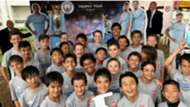 Manchester City's latest additions to their trophy cabinet - the 2017-18 Premier League and Carabao Cup trophies - were on display for football fans, members of the public and players of JSSL Singapore on Tuesday.

The event, held at the JSSL Singapore HQ Arena, saw more than 100 young fans get an opportunity to get up close and personal with the two trophies.

Pep Guardiola and his men won their third English Premier League title in record fashion, amassing 100 points and scoring 106 goals in 38 games last season.

The Sky Blues also lifted the Carabao (EFL League) Cup for the fifth time, blanking Arsene Wenger's Arsenal 3-0 in the final at the Wembley Stadium in London.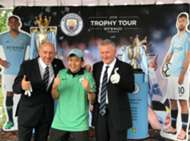 The event was arranged by consumer healthcare brand Betadine, who are partners of both Man City and JSSL Singapore, as a part of the global Manchester City Centurions Trophy Tour presented by Etihad Airways.
Gavin Lee, General Manager of JSSL Singapore said, "For our players, this was an opportunity to be inspired by the sight of two of the most recognisable trophies in the world.
"We are also happy to have been able to host the members of the public, who found the trophy display a visual treat."