A-League
Joyce committed but it's time for City to move on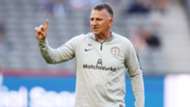 If success in football was judged simply by results, Warren Joyce would have a solid case to extend his stay in charge of Melbourne City.
The beautiful game, however, is a brutal, all-encompassing business that has rightly cast Joyce's future at the club in major doubt. 
A run of one win across City's past eight matches has come at the worst possible time for the coach with fan discontent refusing to go away.
Like it or not, Joyce's hard-line stance with Bruno Fornaroli rubbed a number of fans the wrong way as they were forced to see their star man rot away in the stands before sealing a move to current league leaders Perth Glory. 
With crowd numbers continuing to fall, fans simply must be one of City's top priorities right now and that could mean cutting Joyce loose.
While results on the pitch have stabilised under Joyce with the club securing their best ever finish in the A-League last season and on the cusp of another finals appearance this campaign - all that is for nothing if fewer fans are coming along for the ride.
City have averaged a home crowd of 8,805 this season - a figure nearly 1000 less than last year and a far cry from the 11,062 they were pulling in across 2015/16.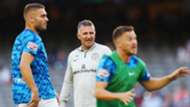 Though Joyce can't shoulder the weight of City's crowd struggles, his side's style of play certainly leaves him stuck with some of it.
Lacking a genuine playmaker, and even a striker prior to Jamie Maclaren's arrival, City have ended up playing a meandering and frustrating brand of football this season.
When your right-back is the top scorer, you know things aren't quite right. 
Their 28 goals is the equal-second fewest in the league and only one more than the tally Central Coast Mariners have somehow strung together.
Style aside, development at City has also taken a worrying back seat under Joyce of late. 
Having somewhat reluctantly given Daniel Arzani the chance to shine last season, Joyce has kept promising talents like Ramy Najjarine and Moudi Najjar on ice, while limiting the minutes of Olyroos captain Riley McGree. 
Though Shayon Harrison has shown glimpses of quality, it's strange seeing City Football Group help develop a Tottenham player when they have a pool of young Aussies of their own to call on. 
While the way Joyce has gone about things has been questionable, the man himself is no doubt committed to City, turning up at a recent press conference despite being visibly ill and the club already teeing up Tony Vidmar to fill in for him.  
"I've come out here, committed to a cause that people have asked me to join in with," Joyce said on Thursday.
"I certainly think I've shown commitment to working to try and do the things they asked me to do.
"You continue to do that and if it's not to be at the end of the season we're giving it our best shot, but between now and the end all my focus and the same with the players is giving it our best shot to do that and achieve that."
But commitment, just like results, is only one part of the football puzzle and City could take an important step to solving theirs by saying farewell to Joyce at season's end.