Super League
JDT two wins away from an unprecedented 4th straight Super League title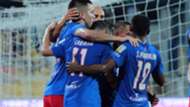 Johor Darul Ta'zim (JDT) took another gigantic step towards retaining the Super League title after an astonishing attacking display against T-Team on Saturday. The home side was handed a 6-1 pounding at the Sultan Ismail Nasiruddin Shah Stadium as JDT stayed on course for the fourth successive league title.
With the stars of the team returning after being rested in the Malaysia Cup match against Selangor, Ulisses Morais' men were raring to go and raced to a 3-0 lead at half time through goals from Gabriel Guerra, Mohammed Ghaddar and an own goal by Aqil Irfanuddin.
In the second half, JDT matched their first half effort with another three goals courtesy of Guerra again, Gonzalo Cabrera and Fahdli Shas. Safiq Rahim also produced an outstanding performance to collect two assists in the match.
"We managed to win tonight's game (against T-Team) with a 6-1 score. The players showed a really good game in the first half that they scored three goals and created several more good chances. Then in the second half, the players maintained the strategy and momentum from the first half."
"For us, it was another three important points for JDT. JDT are currently still in two competitions, the Malaysia Cup and the Super League. JDT are in a good position in the Super League, while in the Malaysia Cup, JDT still have three games to play to reach the quarter-finals. The Malaysia Cup is very important for us too."
"Besides that, I would like to say I am very happy to be with the JDT family. I am happy with the players, and I am happy to see all the JDT fans. All the players at JDT are incredible players. They always show day-to-day improvement and work hard all the time. Tonight's win was the result of their hard work. Thank you everyone," said Morais after the match.
With only five matches remaining the league, JDT only need another two more wins to clinch an unprecedented fourth straight title. Kedah are currently 11 points behind which means that if JDT hits the 48 points mark, their lead would be an unassailable one. 
The Southern Tigers welcome Perak at Tan Sri Hj Hassan Yunos Stadium on Wednesday and if they win that match, JDT could retain their title against Selangor on 5 August 2017 at Selayang Stadium,
The way things are looking at the moment, the title win is only a matter of when and not if.