Tottenham Hotspur
'It would be stupid to leave now' - Kane not expecting Tottenham departures
Harry Kane says "it would be stupid" if anyone were to look for a move away from Tottenham at a time in which the club are establishing themselves as genuine Premier League title contenders.
Mauricio Pochettino's side pushed Leicester City close for much of last season, only for a late wobble to see them finish third behind the Foxes and north London rivals Arsenal.
VIDEO: Poch's free-kick challenge
They dusted themselves down over the summer, tinkered with the squad and have pushed on again into 2016-17.
Spurs are currently perched third in the top-flight table once more, nine points adrift of capital foes Chelsea.
Everyone at White Hart Lane is buying into the long-term vision at the club, with several key men – including Kane – having committed to new contracts in recent months.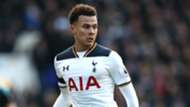 That has done little to curb the exit talk surrounding the likes of Dele Alli, Danny Rose and Kyle Walker, but Kane sees no reason why anybody would be interested in leaving a progressive side.
He told Gazzetta dello Sport: "I would be surprised if any of my team-mates were to leave now.
Pochettino defends Lloris despite errors
"Something's going on here, we're just missing the last step: to win trophies.
"It would be stupid to leave now. We have one of the best managers in the world, perhaps the best. Soon there will be a new stadium. The future is promising."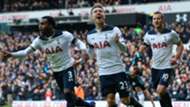 Kane saw his future called into question in the not too distant past, but the penning of a new contract has brought an end to those rumours.
There is, however, still plenty of gossip doing the rounds, with the riches on offer in the Chinese Super League continuing to generate headlines.
Walker admits to Sterling push
A number of high-profile figures have already departed Europe for Asia, but Kane has suggested that there is little chance of him treading a similar path any time soon.
He added: "You have to choose whether to take the money, or follow your own ambitions, playing in the best league in the world and winning titles."
Kane has made 20 appearances in all competitions for Tottenham this season, with 15 goals plundered in what is shaping up to be another successful campaign.