Indian Super League
ISL 2018-19: Chennaiyin FC's Sinivasan Pandiyan 'ready' to play in the ISL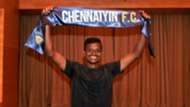 Sinivasan Pandiyan has come a long way from playing for Viva Chennai in Chennai's senior division. He would be scouted in by Chennai City FC in the I-League subsequently and now he is set to feature in the Indian Super League (ISL) in Chennaiyin FC colours. 
Though Chennai City FC had a disappointing I-League season, finishing eighth, Pandiyan caught the attention with his consistent displays in the middle of the park. The 22-year-old has told Goal that he feels ready to play in the ISL.
"Last year I played for Chennai City FC. Now I signed for Chennaiyin FC in the ISL. There is a big transistion. There is a huge difference between the I-League and the ISL. I am excited to gain my experience here. Now as we are in the pre-season. Technically I feel it is better than the I-League. I think I am ready to play in the ISL," he said.
In an earlier interview with Goal, the youngster had explained how he has had to adjust to the level of the I-League. He now has a new task at hand - that of cracking his way into John Gregory's playing XI at Chennaiyin FC.
"There are a lot of good midfielders in our team. Coach (John Gregory) has shown his confidence in me and given me some technical know on how to play in the ISL. So I am looking forward to play in the ISL," he expressed.
Pandiyan had played against an ISL side last season when Chennai City lost 4-1 against ATK in last season's Super Cup qualifiers.
Chennaiyin FC are set to begin the new season with an away fixture against Bengaluru FC on Sunday, September 30. The midfielder, who is on a three-year-deal with the two-time champions, has urged fans of the Marina Machans to come out and support their title defence.
"A big great thanks to the B-Stand Blues and Super Machans. Do come to the Marina Arena to watch our matches and support us," he appealed.