Mumbai City v Odisha
ISL 2018-19: Mumbai City FC coach Jorge Costa praises team for bouncing back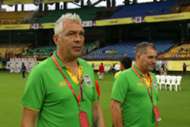 Mumbai bounced back from a humiliating defeat at the hands of Goa earlier this week to bag all three points against a hapless Delhi. Gaffer Jorge Costa, who had bashed his team after their 5-0 loss to Goa,, was pleased with his team's display.
"I did say after the game against Goa that we played well and should have scored four, five or even six goals. I was upset because we gave up. Today we had a good game against Delhi. We had three days to sit down and reflect on this and I think we did well.
"We could have scored more and shouldn't have settled for just two goals. We created a lot of opportunities and even missed a penalty. But we took all three points and I'm happy."
It's never easy to regroup a unit after a traumatizing result but the 47-year-old applauded his team for bouncing back.
"I told my players that we made mistakes in Goa and people are not happy. I reminded them that apart from the final 20 minutes, we played well against Goa, so we could just forget about that. We knew that we had to change things and we did. We had to carry on with our lives and continue to try to give our best. And I'm happy with how the team responded."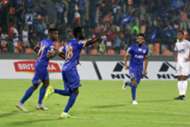 "It is not easy and the boys are not giving up. When you lose 3-0, 4-0 it's not easy to have your mind in the right place. But we did not give up. We showed today that we have a lot of character."
The Portuguese insisted that his team will continue to press opponents high and he's satisfied with how they have fared so far.
"I don't think we were the best team in the world today. We pressed against Goa too and did well in the game apart from the last 20 minutes. I don't think a lot of teams can do what we did in Goa with all the pressing. My philosophy is to press high and create chances. Sometimes it works and sometimes it doesn't. This is what I want the team to do every game"
With Amrinder Singh injured, Ravi Kumar had to step in in front of goal and put in a commendable performance. Costa is pleased with all the players at his disposal.
"I think Ravi Kumar had a very good game. He gave the confidence to the team and this is very important. This shows that everyone is working very hard. I'm very happy with all the 25 players in my squad."