Kerala Blasters
ISL 2018-19: Kerala Blasters' David James confident after faultless start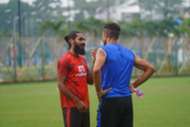 Indian Super League (ISL) Kerala Blasters will be hoping to make it two wins out two matches when they take on Mumbai City at the JLN Stadium in Kochi Friday.
The two foreign strikers of Blasters, Matej Poplatnik and Slavisa Stojanovic, scored against ATK in the opening game of the season against ATK in Kolkata. Although teams are allowed field five foreign players in the first team. Blasters head coach David James fielded only four foreigners in the first game of the season, two of whom were the goalscorers. 
James believes that using two foreign players up front does not limit his options elsewhere on the field. "It creates more options. We have got so many players who have been training and put themselves in a position to be selected.
"For any manager, the difficulty is a fully it squad all ready to go. The two guys who scored did well.  Watching the video (of the match against ATK), we created a lot of chances in the game from a lot of different players. CK (Vineeth) came on and had chances as well. It was pleasing watching the video. It's not about whether they are foreigner or Indian," the coach explained.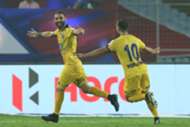 The former Liverpool goalkeeper heaped praise on young midfielder Sahal Abdul Samad, who earned a first-team spot against ATK and played 45 minutes. 
"It (the improvement from last season) is not about magic, it is about giving players belief. Sahal started the game against ATK because what Sahal did in preseason was spot on. He has already featured more this season than he did last season.  There is no magic involved in this.
"Sahal has a lot of ability, there is a lot more to come from him. Time is something that a lot of players can afford, but they have to use it the right away. Age is not the requirement for selection. It is not the dictator, it is how you train and play.
"A conversation about Sahal and a lot of other younger players were had when I joined in January. He was selected for ATK, he earned that position and it is a position that he has to keep. It is nice to start games but match-winners don't have to play 90 minutes, they arguably don't need to even score goals. They have a positive influence on the game."
Sahal Abdul Samad, meanwhile, clarified that he had no issues having been replaced by Courage Pekuson at half-time. "Every player wishes to play for 90 minutes. But it is the coach's decision and it could be a part of his tactical change."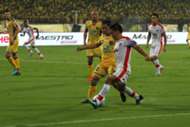 James also expressed his satisfaction over the progress of Serbian defender Nemanja Lakic-Pesic and rubbished suggestions that he only started the season opener due to the suspension of Anas Edathodika
This season's ISL fixtures includes breaks for international matches, something that David James has no issue with.
"We have to congratulate because we are giving time for Indian football. Sahal should be looking at the games against China and say that is where I have to be involved in. The more Indian national team improves, the more Indian players will come from Kerala Blasters and the happier I will be as a coach," James said.
"I am not sure Lakic-Pesic stepped in because Anas was absent. He is one of those who deserved the right to start. As a coach, the best thing is to have is everybody playing well. I can't think of bad performances (vs ATK)."
David James added that former India U-17 midfielder Jeakson Singh will have to wait for his first-team debut clad yellow but also said that he expects more young signings in the future. "No (Jeakson won't start).Traditionally, the ISL has been about older players and filling the gaps with young players. It is not about fitting them in. Jeakson won't be the last player who will board the system (at Kerala Blasters). "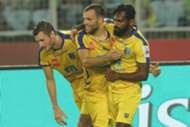 Dheeraj Singh looks set to continue as the first-choice goalkeeper at the Yellow Army but James has said that he is not against rotating goalkeepers for matches.
"As long as they (goalkeepers) understand why they are being changed, (there is no problem in changing goalkeepers in the first team). We have three different kinds of goalkeepers. Certain games weren't suited to my style of goalkeeping (when I played). We will see if it works."
In the same fixture last season, the Kochi crowd saw the home team register a 1-1 draw. Blasters defeated the Islanders 1-0 in the away fixture. Although Mumbai City lost 0-2 to Jamshedpur FC in their first match, David James is wary about their threat.
"If we think that Mumbai City lost and hence we can win easily, then we will be very much mistaken."