ATK
ISL 2018-19: ATK's Steve Coppell - Lot of breaks hampers the rhythm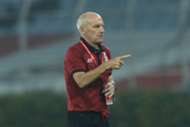 ATK's third win of the 2018-19 Indian Super League (ISL) season came against a struggling Pune City side at home on Saturday.

Head coach Steve Coppell was pleased with his players and mentioned that they worked on their fitness and have become more resilient.
"I used to hear that we are conceding a lot of goals late in the game. I was asked about the fitness of the players. But now you can see that we are scoring late goal. We have worked on our fitness. To be fair to Pune, they had their selection problems and they made it difficult for us. We had a lot of half opportunities and we could have gotten frustrated but we kept on going. These three points are really important for us."
Manuel Lanzarote has had a shaky start to his season but the Spaniard's boss believes that this was his best performance of the season.
"I think this was Lanzarote's best game of the season. He added different qualities to his game today. He was dropping deep, making passes and involved in a lot of chances. He had a couple of set-piece opportunities. He invested a lot into this game."
The Englishman is happy that the gap between the table-toppers and his team has reduced and stated that his players were under a lot of pressure to achieve this result.
"The players put themselves under pressure tonight. They realised the significance of the three points. The performance wasn't as important today as the three points were. Every footballer in every game is under pressure to perform but today it was a bit more. When we see the table, there were a lot of teams above us and the distance was huge. But now we have reduced the distance. Now we have a break and after that we can look at the last five games of this section. We'll try to prepare and get good results so that we are in a favourable position by Christmas and we can attack the next section of the league."
Coppell is clearly not a fan of long breaks between the season. The Englishman expressed his opinion on how these breaks break the rhythm but insisted that his team will look to attack the league as soon as it resumes.
"The season has hardly got going. We have had a lot of breaks. I think a lot of breaks hampers the rhythm. We had a break of nine days and now we have a break for 14 days. We will get some rest. Not that we need the rest but we will have it. We want the players to be fresh so that we can attack the next five games which is totally opposite to the first seven games because they are jammed together."