Kerala Blasters
ISL 2017: 'Simple yet brilliant!' - Wes Brown on Rene Meulensteen's coaching sessions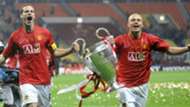 ---

BY NISANTH V EASWAR   

  Follow @Niktheblue94 on Twitter
---
It was an important summer this year for Indian Super League (ISL) side Kerala Blasters. The needed a change in order to somehow get over the finishing line after losing the ISL final twice in the last three years.
The first step towards a  rebuild was the appointment of former Manchester United assistant Rene Meulensteen as the club's head coach. Then came the Indian player draft through which they brought in a good Indian contingent.
What Meulensteen then did was bring in two of his protegees from Manchester United. Wes Brown was the first to arrive, followed by the headline signing of Dimitar Berbatov. Both these players are sure to have a huge say in where and how Kerala Blasters will end up come the end of the season.
The playmaking skill of Wes Brown in defence is going to be a highlight of the league this season and the defender, speaking exclusively to Goal, revealed how his coach goes about in training the current crop of players at his disposal.
"I know what he needs from me. That's pretty much simple. He has got the lads together as a group.  When he is explaining stuff, it's completely different.  He has got a new squad. And he has got to try and get them to play how he wants them to play.  And he does it brilliantly in the training sessions to make it very simple for everyone to understand and his point across on how he wants them to play in different ways in different games," revealed Brown.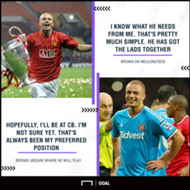 Rene Meulensteen was an assistant to Sir Alex Ferguson, under whom Wes Brown played some of the best football of his career. He was efficiently deployed as a right-back when the situation demanded and Brown said that the Kerala Blasters head coach had a crucial role to play in changing his position from the centre of defence to the right.
"He did most of the coaching when he was at United. For me personally, I moved to right back at a certain point in my career. I was absolutely fine there but I was more defensive minded. Rene helped me a lot in playing that right back role."
Wes Brown would love to play his preferred position as a centre-back for Kerala Blasters. However, the Kerala-based club has Indian national team defender Sandesh Jhingan and Nemanja Lakic-Pesic vying for a place in the centre of defence and the Englishman might have to move forward into defensive midfield to help balance the side.
"Hopefully, I'll be at centre back. I'm not sure yet. That's always been my preferred position. It's completely up to the gaffer. If he wants to me to play a different role, I will try my best at that as well."
The club made it a point to not disclose any information about their pre-season. Only the final scorelines of their games were shared on social media and according to Brown, the training in pre-season was a steady to attempt to get the squad up to scratch on how the coach wants them to play.
"We made progress from the first game to the last game. It has become more natural, how the players are playing. We try to keep doing that and the gaffer on each day, will give a little bit more information and he's not given us too much information in one go. He is very simple, it makes it very easy for everyone to understand."
When asked if the reduced capacity in JLN Stadium is going to have a detrimental effect on the atmosphere created by fans, Wes Brown was quick to say no.
"No, it's still a big crowd, 40000! It's going to be noisy. It's shame that it had to be reduced but it's FIFA rules when they hold the tournament, it's about the health and safety. 40000 is a lot of fans. I'm sure that they will be a lot of noise and it will help us."
At 38, the two-time UEFA Champions League winner is considering an option to move into coaching. He is, however, still not sure if that is the path he wants to take.
"I would try and play as long as I can. I love it. I have got my licenses, I have got A and B now. I don't know if I am going to go in that direction. We will see, especially after this season."
For now, he is focused on the task at hand - to get three points from the opening game against ATK on Friday. And according to Brown, Iain Hume is a player who can get off to a flying start to the season.
"Hume understands this league completely. He is the top scorer. If he can come in and score like he as done, it's always a good start." Brown concluded.
Kerala Blasters will be looking to win the trophy this season and the expectations on the team are high. With Rene Meulensteen at the helm and the players they have, the team are looking stronger than ever and have in their arsenal, what it takes to break the finale hoodoo.