Kerala Blasters
ISL 2017: Wes Brown - Kerala Blasters fans are some of the best I have ever seen!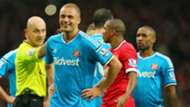 ---

BY NISANTH V EASWAR   

  Follow @Niktheblue94 on Twitter
---
Kerala Blasters defender Wes Brown is relishing the opportunity to play in front of a large crowd again. The defender, who spoke exclusively to Goal , is full of praise for the supporters of his new club and cited the support as one of the reasons for his switch to India.
"I always wanted to play abroad. I always remember Mikael Silvestre telling me that he was in India two years ago," said Brown. "When the gaffer told me he was going take over Kerala Blasters, it was pretty simple really, the fans are some of the best I've seen and I've not even seen them in real life.
Coming from a former Manchester United player who has more than 300 appearances to his name in the English Premier League, that is a big compliment for the fan group of Kerala. The defender is looking forward to playing in front of a large Kochi crowd.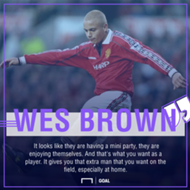 "I have only seen it on Youtube, they are brilliant. It looks like they are having a mini party, they are enjoying themselves. And that's what you want as a player. It gives you that extra man that you want on the field, especially at home. I have not played in front of 40000-50000 fans in a while so it's going to be great to experience that again."
It was not difficult to gel in with the rest of the squad for Brown and the process was made easier by the signings of familiar faces in Dimitar Berbatov and Paul Rachubka.
"I knew they'd sign Berbatov as well. Then Paul Rachubka, who I used to play with at Man Utd when we were younger. In that sense, I already knew the people."
Wes Brown is ready to take the field for Blasters but the humid conditions are a bit of a bother for the Englishman.
"Its different from where I am from. I think its been brilliant. The traffic is a lot worse, you get used to that. The humidity is a lot higher. Luckily we train in the evening so that helps. But it is really hot."
The conditions are something that the defender will get used to, now that the Indian Super League is a 5-month affair. The opening game of the tournament will see Kerala Blasters take on ATK on November 17 at the JLN Stadium in Kochi.