Indian Super League
ISL 2017: Jamshedpur FC squad analysis - Debutantes embark on a new journey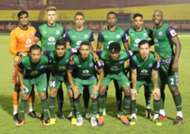 ---

---
The kick-off of the fourth edition of Indian Super League (ISL) is less than two weeks away and as 10 teams prepare for four months of football extravaganza, Goal takes a look at the strengths and weaknesses of each team in their hunt for the trophy.
In this article, we analyse the squad of Tata group owned Jamshedpur FC who will make their debut in ISL this season. They have roped in Steve Coppell as their head coach who famously guided Kerala Blasters to the ISL final last season. Not just Coppell but also Ishfaq Ahmed, who was his deputy at Blasters, has switched to Jamshedpur FC. This is for the very first time that the city of Tatanagar, which has hosted Federation Cup in the past, will experience the joy of watching a top tier league.
Jamshedpur FC's squad in full: 
Goalkeepers: Rafique Ali Sardar, Sanjiban Ghosh, Subrata Paul.
Defenders: Andre Bikey, Anas Edathodika, Robin Gurung, Sairuat Kima, Shouvik Ghosh, Yumnam Raju, Tiri.
Midfielders: Matheus Goncalves, Memo, Bikash Jairu, Mehtab Hossain, Souvik Chakraborty, Sameehg Doutie, Ishfaq Ahmed.
Forwards: Kervens Belfort, Ashim Biswas, Farukh Chowdhary, Jerry Mawihmingthanga, Siddharth Singh, Sumeet Passi, Izu Azuka
---
Strengths
---
Jamshedpur FC can boast of a very strong midfield. They have recruited some reputed Indian names which include veteran midfielder Mehtab Hossain and Souvik Chakraborty. 
They have also signed former ATK winger Sameehg Doutie, who has been a consistent performer in the last two editions of the ISL and was one of their best players. The debutantes have also brought in Matheus Trinidade Goncalves and Memo who had plied their trades with FC Goa and Delhi Dynamos last season respectively. The biggest strength of the Jamshedpur midfield is that almost all the players have the experience of playing in India and are familiar with local conditions. In Bikash Jairu, they have one of the best left wingers in the country. 
Coppell is someone who prefers to hit the opponents on the counter. He has very good defenders at his disposal and pacey wingers such as Jairu, Doutie and even Belfort for that matter.
They also have several versatile players such as Souvik, Memo, Bikey, Shouvik, Sairuat and Belfort.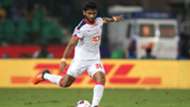 Another position in which the team is extremely secured is in the central defence. They have signed Anas Edathodika who is one of the best central defenders in India at the moment. Andre Bikey, who has played in almost pre-season game and Tiri are proven performers in the ISL before. 
The presence of Tiri, Bikey, Anas and promising youngster like Sairuat Kima gives Jamshedpur a solidity in defence. 
---
Weaknesses
---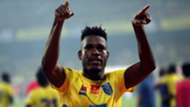 If midfield and central defence are Jamshedpur FC's biggest strengths, then their forward line is something they should be worried about. Former Kerala Blasters star Kervens Belfort has reunited with Steve Coppell at Jamshedpur this season and had scored a mere three goals last year although in his defense, he played primarily on the wings.
Nigerian forward Izu Azuka has also joined their ranks and will make his ISL debut this season. But Jamshedpur FC lack quality Indian strikers in their squad. The three Indian forwards in their squad this season are Farukh Chowdhary, Sumit Passi and veteran Ashim Biswas. 
Youngster Farukh is yet to make a name for himself in Indian football so far and thus it is doubtful whether Coppell will give him a start during the season. Sumeet Passi is coming back from a long injury lay-off and isn't known for his finishing skills. The third name is, of course, Ashim Biswas who makes a comeback into the mainstream of Indian football after very long time.
In the goalkeeping department, they have Subrata Paul, Sanjiban Ghosh and Rafique Ali Sardar. Paul hasn't been in the best of forms and his game has dropped by a few notches in the last couple of seasons. Ghosh hasn't played much football in the last two seasons and hence, match fitness would be a concern.
---
Opportunities
---
Jamshedpur FC have two promising youngsters in their squad, namely Sairuat Kima and Siddharth Singh. 20-year-old Kima was a part of the DSK Shivajians squad in the I-League last season. A tall well built defender, Kima can prove to be a a very versatile addition for Coppell's side.
Siddharth Singh is another youngster who might have a breakthrough season under Steve Coppell. The striker, who has been deployed as a left-back by Coppell, will be making his debut in top tier Indian football this season. Singh has already featured in a pre-season game against Tata Football Academy last week.
---
The Danger Man
---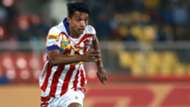 Even though Jamshedpur FC have several top foreign players in their squad, the name which stands out is South African winger Sameehg Doutie. Doutie has been one of the best foreign players of ISL in the last two editions. He was one of the key members of the title winning ATK side last year. Under Antonio Habas and Jose Molina, the winger was almost indispensable and started for the side in 80 per cent of their matches. 
Doutie has scored five goals in the ISL in two seasons and has created several goal scoring chances for ATK. His quick runs down the flanks coupled with an ability cut inside the box swiftly and exceptional skills on the ball makes him a standout performer.
The new entrants of the ISL have a fairly good squad and can prove to be a surprise package in the league this time if their star players fire consistently.