Indian Super League
ISL 2017-18: Steve Coppell hoping to expose FC Goa's defensive frailties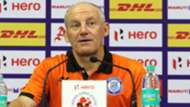 Jamshedpur FC head coach Steve Coppell is looking forward to exposing FC Goa's weak links in defence when the two sides meet in the Indian Super League (ISL) match in Goa on Thursday.
"It is going to be a good contest. They have been a good fluid attacking unit, as they have scored against a number of sides. It is our challenge to stifle that threat and hit them as well. That means not only doing our job defensively but also expose their weak links at the back," said Coppell.
Defender Anas Edathodika returned to action in the last game but his coach is unsure about his fitness.
"Anas has been out for quite a while and he has not trained very much. So doubts remain whether he would play or not."
Jamshedpur have faced criticism for the defensive style of play and Steve Coppell isn't too flustered.
"There is no way we said that let's defend at the start of the season because that is the only way to be successful. We have our geographical challenge in itself as we have to do a lot of travelling. There are a lot of things that make up a season. If all the other teams are three to four years old that is an advantage, but I don't want to make it an excuse."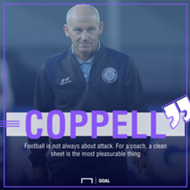 "Anas was chosen as our first choice in the draft and him getting injured has disturbed the balance of our team. We don't work harder defensively than any other team. There is no intention to crawl through the season one point at a time," explained the former Kerala Blasters head coach.
He added, "Football is not always about attack. For a coach, a clean sheet is the most pleasurable thing."
Jamshedpur are currently sixth on the table, just one place behind their opponents FC Goa.
"We want to play against the best, prove ourselves against the best and pick up points against the best."
While Goa have scored the most number of goals in the season so far, they are also prone to defensive errors at the back.
"FC Goa is attractive going forward with the ball. They will give you opportunities and we have to try and take them."
"When I look at them I find them to be a good side. But they have also lost matches. They have won five and lost three, so it tells a lot about their playing style."
Finally, Steve Coppell opined on the much-debated refereeing situation in ISL, "You can't question refereeing decisions. You just have to accept them. There have been quite a few wrong decisions but football is such that any mistake you find you hope that it is a genuine mistake."
"The referees are now being judged just like players and if they are not up to the standards, they should be removed and replaced."