Indian Super League
ISL 2017-18: Sergio Lobera - Jamshedpur FC is very difficult to play against!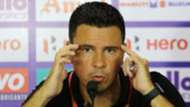 FC Goa outclassed defending champions ATK 5-1 at home on Wednesday to remain alive in the race for lone remaining play-off spot. Sergio Juste, Manuel Lanzarote (2), Ferran Corominas and Mark Sifneos were on target to guide Goa to a comfortable win. Robbie Keane scored the consolation goal for the visitors.
In a one-sided encounter, Sergio Lobera's produced scintillating football to add more miseries to ATK's woes who are now on a 10-match winless run.
On asked if Lobera considers Goa's performance against ATK to be perfect, the Spaniard replied, "I don't think perfection exists. There are always things that we can improve upon but I am very happy with the performance that my boys put out there today (Wednesday). We were taking on a team that was going through a negative phase. So it was important that we started well. I'm happy with the result but the most important thing is the match (against Jamshedpur FC) that comes up."
ATK coach Ashley Westwood had claimed earlier that ATK started the game on a better note and were dominating in the first 10 minutes. Lobera disagreed with the Brit and claimed, "I didn't see it the same way you did. I think we had control of the game and had the best chances. We were effective and made sure we scored the goals. I am very happy with the way my team started and finished. It might have been true that in the middle of the game, it was a little taxing on us. Physical fatigue is normal. Now it's important that the team recovers and is ready for the next match."
With Sergio Juste starting ahead of Bruno Pinheiro, the coach explained that he was looking to rotate the squad a bit.
"Bruno (Pinheiro) was a 100 percent fit but we thought that we'd go with (Sergio) Juste instead today. Also keeping in mind that we have a game in the next four days, we had to ensure that we had some sort of rotation to manage the players' workload as well."
On having headaches regarding the selection of players, he continued, "I think these are the only kind of headaches I would love to have. To have players of a good quality level and then having to choose between them is positive. It hurts my head more when I don't have the opportunity to select the players that I have."
After starting the season on a positive note, Lobera's suddenly experienced a drop in form in the middle of the season. But they shifted gears at the right time and are now very much in the race to finish among the top four.
"I think in the five games where we achieved only two points. We deserved much more. We weren't at our best. The start of the league was very good for us. The most important aspect is you have to put yourself out there. Finally, we have 27 points. This is a good tally. The way things have gone about is what could have generated some doubt (about FC Goa qualifying for the play-offs). If we had the same amount of points - say if we had one win, one draw, one loss - the analysis would have been different. 
"In the last two games, we have recovered the sensation of the team. The team has scored nine goals and this is our philosophy," suggested the former Barcelona youth coach.
FC Goa meet Jamshedpur FC away from home in their final league match of the season on Sunday. On asked if beating Jamshedpur at their home will be an easy task for his side, Lobera said, "No, I think it will be very difficult. It is a game where a draw is sufficient for us but we are a team who go out there to win. Normally teams who go there play for a draw and end up losing. Jamshedpur is a team very difficult to play against and we saw that here at home (Goa) as well and the game against them is going to be a difficult one."