Indian Super League
ISL 2017-18: Meet Anirudh, the 7-year-old football fan who prefers Kerala Blasters to cartoons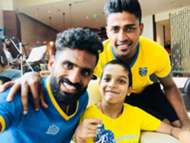 ---

BY NISANTH V EASWAR   

 Follow @Niktheblue94 on Twitter
---
Most 7-year-old kids will spend their time after school hours binging on cartoons. The type of cartoons may vary but it is almost cartoons or video games that attract a majority of kids these days. But things are different in Anirudh Gopakumar's life. 
7-year-old Anirudh, son of college lecturer Gopakumar and Dhanya, loves all kinds of sports. Kerala Blasters, however, is his favourite team and he was in dreamland when he got to meet his favourite players at the team hotel recently. Once his father talked to Rino Anto, Blasters players made sure they spent some time with him. He clicked pictures with them and one of those selfies was recently posted on social media by CK Vineeth.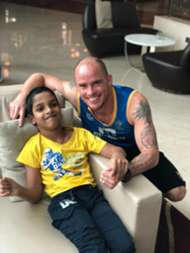 Anirudh's life has not been easy and even he might not know how strong a warrior he is. He was diagnosed with cerebral palsy at birth and has difficulty with movement. It is difficult for him to take the field but that hasn't stopped him from religiously following Kerala Blasters and Indian Super League ever since he received access to television. 
"When we cut cable TV, he asked me to take him to the stadium to watch them live. But then people advised against it citing the humidity and the difficulty that he will face inside the stadium. A few days later, we got to meet Rino Anto through a friend. Then he got to meet almost all players," said Anirudh's father Gopakumar. 
"He was about to cry in Kerala's game against Pune City. And that is when CK Vineeth popped up with a great goal. He was overcome with joy. He took the phone and sent voice messages to Rino soon after the game!"
Anirudh is a second-grade student at Kendriya Vidyalaya in Aluva and is one of the top students in his class. During his leisure, he watches matches and is an excellent learner of the technical know-how of everything related to sports.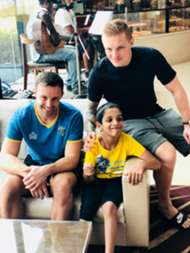 "We did not know whether he could attend school but then he is improving. His first preference is always a sports channel. Cartoons are down the priority order. We never knew about the technical terms related to sports at his age. He knows everything!" exclaims Gopakumar. 
"I think sports will help kids. His grandfather had a big influence on him. He used to buy sports magazines and tell him stories."
Sunil Chhetri is the best footballer in the country, according to Anirudh. He adores the Indian national team captain so much that he even watches Bengaluru's games just to see him play, despite being a hard-core Yellow soldier. 
Anirudh is not in pain because he has found love in a sport that keeps him excited. Despite all his difficulties and what he has gone through, his heart is filled with love for Manjappada. Soon, he will be at the stadium to cheer for his favourite players in yellow.