Indian Super League
ISL 2017-18: Albert Roca sees the game against Goa as a test of his defense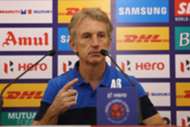 Bengaluru FC are on top of the league table and a win on Friday against FC Goa will cement their qualification for the playoffs. They also have a score to settle with Sergio Lobera's men as they went down 4-3 in the first leg in Goa.
"The reverse fixture against Goa was strange. We had our chances but the way they won I was not happy. Tomorrow again is a match against a very good team and the spectators can be ready for a spectacle," said Bengaluru head coach Albert Roca.
Bengaluru has been in a rich vein of form but Roca is not making the mistake of underestimating his Goan opponent.
"We are happy to get the string of positive results as it has given us an advantage in the standings. We need three more points to ensure our qualification, that is our first goal. Tomorow we are playing against a team who are expected to be in the top four. So it will be a good test for us.
"Corominas is a good player, one of the best in the league and so it's important to pay attention to him. It's also important to make sure that the player who is assisting him, Lanzarote, is also kept a watch on. Tomorrow will be a good test for our defence," expressed Roca.
The former FC Barcelona assistant coach confirmed that there will be some rotations but not many of them, as he does not want to disturb the dynamics of the team. 
"We have a very tight calendar. It is my duty to manage the squad well as we have another AFC cup playoff match coming soon. Tomorrow we will look to make some changes but not make wholesome changes. Some have played in AFC Cup against Bhutan, so looking to give them a chance tomorrow.
"Both winning and checking the bench strength is important. Our intention is to win and get the three points from all four games," said Roca. 
A coach is always impressed by a clean sheet and Roca seems to be no different. 
"A clean sheet is always nice, but for spectators, a high-scoring game is always the best. For us coaches, a high-scoring match, whichever way it swings, makes us crazy. Winning is the most important thing. The result does not matter," said Roca jovially before signing off.