Indian Super League
Indian Super League 2016 - Aaron Hughes and Matias Defederico amongst stars to find new clubs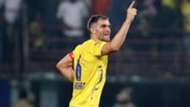 With the Indian Super League (ISL) having been firmly consigned to the rear view mirror of the new year, several of its foreign stars continue to find new clubs on foreign shores to perpetuate their careers. 
Aaron Hughes, the Kerala Blasters marquee, has moved backed to the United Kingdom with a move to Scotland's Heart of Midlothian. The club participates in Scotland's top tier and the 37-year-old centre-back has revealed his ambitions after moving to the Tynecastle Stadium, in the west of Edinborough. 
"With the current World Cup campaign (for Northern Ireland), I was hoping to come back and play at a level that is going to help keep me involved with the national team," explained Hughes.
Matias Defederico caught the eye of many a keen observer after his strong displays for Mumbai City in their run to the semi-finals of the competition. He scored three goals while racking up three assists as well, but it was always his pace and trickery on the ball that was a bugbear for most opposition teams.
The Argentinean has now headed back to his native South America to join Ecuadorian side CD Universidad Católica, who participate in the Serie A Primera Etapa. 
Thiago Cunha, one of Defederico's teammates at Mumbai City, has joined Londrina EC in Brazil's Serie B. The Osttimorian made six appearances for the Ranbir Kapoor co-owned side.
Finally, Davide Succi, the Italian forward of Marco Materazzi's Chennaiyin FC, has linked up with Forli in the Italian third division. He scored three goals in 13 appearances for The Machans.