India
Indian Football: India National Team enter Top 100 in FIFA Rankings for the first time in twenty-one years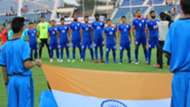 The Indian National football team have officially entered the top 100 according to the Federation International de Football Association (FIFA) Rankings of May 2017.
Ranked exactly 100th, The Blue Tigers share the position with Estonia, Lithuania and Nicaragua. Even though India did not play any official games in the month of April, the one spot rise from 101st last month was facilitated by African nation Malawi who dropped a staggering 42 points over the course of April. 
It was Malawi itself who were ranked 100th in April and their recent twin 0-1 losses to lower ranked Madagascar triggered their downfall by 13 places. Each and every nation ranked between 101st and 113th last month saw an automatic one place rise.
With 331 points in their kitty, India are the 11th best-placed Asian nation. Within fellow South Asian Football Federation (SAFF) teams, Maldives are placed 151st, while Bangladesh (193), Nepal (172), Bhutan (164), Sri Lanka (197) and Pakistan (201) are ranked much lower.
India's best ranking was 94th in February 1996. It will be a milestone for the senior team, setting a precedent for the nation which will host the FIFA U-17 World Cup later this year.
Stephen Constantine's men next face Lebanon (137th) in a friendly on 7th June before taking on the Kyrgyz Republic (127th) at home in their third round 2019 AFC Asian Cup qualifier Group A game on 12th June.
However, with very less international football taking place in April, the rankings look almost similar to the last update. There has been no drastic change other than that of Malawi's position. Caribbean nation St. Vincent & the Grenadines are the best movers, going up eight places to 169.

Brazil continues to lead the list with Argentina and Germany following suit, while Iran is the highest ranked Asian team at 28th.