Manchester City
Ince: Sterling's shown he's a man over alleged racism... he could've jumped into the crowd like Cantona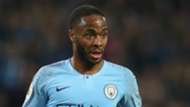 Paul Ince has praised Raheem Sterling for his reaction to the alleged racism he suffered during Chelsea's win over Manchester City on Saturday.
The 24-year-old published a statement on his Instagram page highlighting the differences between the media reporting about two young Manchester City team-mates buying new houses.
This was after the England international had allegedly been subjected to racist abuse from Chelsea fans, with the Blues having suspended four supporters over the incident that took place during the Blues' 2-0 win at Stamford Bridge.
And former Manchester United and England midfielder Ince thinks that Sterling showed great restraint in not reacting to the supporters who were shouting at him from the stands.
"To be fair to Raheem, he helped it [the situation]. It would have been easy to jump into the crowd, like [Eric] Cantona did [versus Crystal Palace]. It really would have," Ince told Goal. "It shows now that he is grown up, it shows that the penny has dropped. It shows he is a man, it shows he has gone from a kid to a man.
"The way he dealt with that situation, it was fantastic. To deal with it and not react to it and get on with the game was brilliant. I have had so many phone calls since Saturday asking 'do you want to talk about Raheem'? 'Do you want to talk about this racism stuff'?
"Yes, it needs to be said from someone like me. I have a voice in it. The press, FA, Premier League, Football League, the crowds and fans have done so well to stamp this racism out. We have come a long way since the 1970s and 80s but I feel that we got complacent with it in the last few years.
"You are never going to stamp out racism completely anyway. It doesn't matter who it is against, what religion or creed, it doesn't matter. Racism is racism and maybe we took our foot off the gas a little bit. Every now and again you get a situation where it rears its ugly head again.
"It is out there now because it happened to Raheem, but it is still going on in the lower leagues. It is not just in the Premier League, it is going on in the lower leagues. When we think we have done what we need to do with this racism stuff, we need to actually think that it is still there and it still needs to be stamped out.
"It is a minority, let's get this right. Let's also think about what he has done as a player and how he has improved from this year to last year. You can see it, you can see him going from a boy to a man.
"He is doing things the right way, making the right decisions and he looks happy in his life. Irrespective of what happened on Saturday, he looks happy with his life and when you are happy, you enjoy your football."
The England international has been Manchester City's most effective attacker this season contributing eight goals and six assists.
Ince doesn't want the racism debate to take away from the former Liverpool man's form, but he thinks that Eden Hazard and Mohamed Salah are still better players than the City frontman.
"Obviously Pep [Guardiola] has got to take massive credit with the way that he has progressed and he has taken it all on board, Raheem. He is scoring goals, setting up goals," The Paddy Power ambassador added. "This is something that you want to see for England.
"It is funny though because people say [Marcus] Rashford and [Jesse] Lingard do it for England but not for Man United. Raheem does it for City but not for England. It is a different competition, team and environment. I think anyone playing in the City team would do it.
"I would have got 20 goals-a-season as a holding midfield player, so anyone can do it for City. I am just happy he is playing with a smile on his face. Long may it continue, he is scoring goals. City don't play the same way England do.
"A lot of his goals are just getting into the right positions, back post, tap-ins. He has not even reached his full potential, he is only 24. There's a lot to come from Raheem Sterling. If he knuckles down, under Pep he will do, we're potentially looking at a great player here.
"He is up there as one of the best in the way that he is playing at the moment. Form can fluctuate, but if you are talking about the best player in the league? That's Hazard. For me, he is the best in the league and you have got Mohamed Salah too.
"Raheem is doing well though, and he is winning over the fans and I still think [even after the alleged racism incident] that he is winning people over with the way he is playing. That's starting to change by the performances that he is having."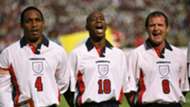 And while Ince feels that the issue of racism in football has been addressed, he feels more could be done to continue to help eradicate it from the sport.
"The media want it out there, there's no cover up story to say that black players are not being racially abused," he added. "I am not sure, I think we are all working together and trying to make it better but, on the same token, how do we make it better? Because there's still more of it.
"It still keeps rearing its ugly head and it is not going away. Isolated situations are cropping up here, there and everywhere. We need to bang our heads together and make sure we make the right decisions so it doesn't happen again."
Paul Ince is a Paddy Power ambassador, to read more go to news.paddypower.com