Wydad Casablanca v Mamelodi Sundowns
IN DEPTH: How Mamelodi Sundowns survived Wydad Casablanca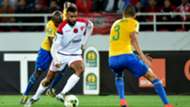 ---
Team News
---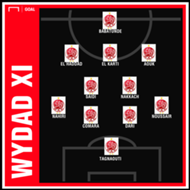 Wydad Casablanca coach, Faouzi Benzarti went with his usual 4-2-3-1 shape with direct and aggressive wide players.
Baddi Aouk was selected on the right flank to replace the injured Mohamed Ounnajem with Ismael El Haddad fit enough after an injury to start on the left.
In midfield, Ibrahim Nakkach was deemed fit after a knock and took his place back from Yahya Jabrane.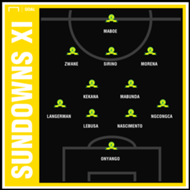 Mamelodi Sundowns welcomed back Denis Onyango after injury in goal.
In central defence, Mosa Lebusa was preferred to Wayne Arendse.
This was a surprise considering the veteran started the previous five continental matches and is the most regular partner for Ricardo Nascimento this season (18 starts together).
Further forward, Thapelo Morena was used as a wide player whilst Gaston Sirino was fit to start having missed the Al-Ahly second leg in the quarterfinals with an injury.
---
Downs' Task
---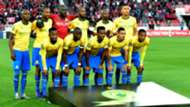 Sundowns came into a very difficult match having played on Tuesday afternoon and then taking a chartered flight to Wydad in the evening.
The home side have kept an impressive 14 clean sheets in their last 20 CAF Champions League matches, scoring 44 goals during that run.
Their last home defeat in all competitions was in February 2018, winning 29 of their last 36 home matches and not losing a home CAF Champions League match since July 2016. That was the task facing Pitso Mosimane's men.
---
Wydad Start Fast
---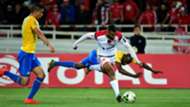 Both sides made a strong attacking start to the game, but it was the home side who created the clearest openings in the early minutes, twice going close from corners.
First, Lebusa lost Salaheddine Saidi in the box and he forced Onyango into a fine save, then Cheikh Comara got away from Morena and Themba Zwane had to clear off the line for Sundowns.
The home side were playing highly effective percentage football – not looking to overplay in midfield, and instead building through the flanks and focusing on picking up second balls from any passes into the striker, Michael Babatunde or into El Haddad, who was coming inside from the left wing as a second forward at times.
Wydad also had a real weapon in long throws, creating an opening from one in the fourth minute, and then later in the half, Onyango had to save from El Haddad as he picked up the ball after a long delivery into the box.
At left-back was the tall, right footed Mohamed Nahiri, scorer of goals in both group games this season against Sundowns and with five goals in the competition this season so far.
He would position himself very high up, even making runs into the box when the ball was on the opposite flank.
His advanced position is what allowed El Haddad to join play centrally.
The latter appeared to have no defensive duties and when Nahiri was caught up-field, Wydad simply had to make last-ditch interventions up that flank. 
With the tall Walid El Karti playing as the most advanced of the three central midfielders for the home side, there was often an extra aerial target to join Babatunde in winning flick-ons or bringing the wide men into play.
Aouk was also looking lively on the right flank, allowing Tebogo Langerman to get forward early in the game and then being free to lead counters.
---
DOWNS USE SPEED & INVENTION
---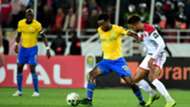 Sundowns made a good start themselves. Focusing play down the right, where Morena's pace could be used for counters, and looking for early passes into depth for Maboe as a clear strategy.
Comara looked particularly uncomfortable dealing with speed and vast expanses to defend behind Nahiri's forays.
Twice in the first 12 minutes, Comara escaped bookings for pulling back Morena and Maboe when they were about to attack the space in behind.
Sundowns' first good effort came when Morena found Sirino to test Ahmed Reda Tagnaouti in the Wydad goal.
Later, a quick break saw Sirino pick out Maboe and the latter's shot struck the post from distance.
From any corners, Mosimane's side were using inventive short corners in the knowledge that the home side had the greater height to deal with aerial delivers.
Both Zwane and Hlompho Kekana had shooting opportunities from these routines.
---
 Wydad Press Centrally
---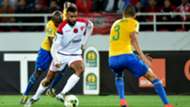 After their strong start playing forward passes quickly, Sundowns looked to settle down and use their usual quick passing in tight spaces.
However, this was not the right situation for that.
In midfield, the Wydad central three of Saidi, Nakkach and El Karti were aggressively pressing whenever Tiyani Mabunda or Kekana showed the ball off their teammates.
Twice, Downs gave the ball under pressure in this situation. First, Mabunda gave the ball away as Saidi pressed him, forcing Langerman to foul Abdelatif Noussir and take a yellow card.
Then, Kekana was closed down by Nakkach and with Saidi joining him in group pressing, Sundowns gave the ball away and Lebusa had to clear under pressure.
They were not so lucky on the third occasion. 
In this spell of three giveaways in six minutes, Sundowns finally conceded on a transition. Having had a counter attack of their own, play broke down, Mabunda gave the booked Langerman a loose pass which was closed down and Wydad broke away four versus three.
When El Karti delivered a low cross and Lebusa fluffed his clearance, El Haddad laid off for Saidi to finish.
The Wydad man had been in his own box just seconds earlier and ran untracked to finish from around the penalty spot.
Kekana had failed to track his man, but the route of the goal was Mabunda giving the ball away when closed down.
At the next break in play, Pitso Mosimane was clearly seen telling Mabunda to avoid playing passes in these tight areas and instead look for safer passes over the top.
Wydad could really have increased their lead after that. Nascimento's heavy touch and Lebusa unsuccessfully trying to nick the ball off Babatunde led to the Nigerian having a one-on-one, but Onyango made a crucial smothering save.
A weak back-pass from Anele Ngcongca then put Lebusa in trouble, before the latter made a routine clearance into teammate Nascimento and out for a corner.
Composure in the Masandawana backline was lacking.
---
 Sundowns Strike
---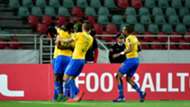 Right before half-time, the away side were level.
Once again, they did not deliver a high corner kick.
Instead, Sirino found Kekana with a clever chip into the box, his shot was blocked, and Ngcongca headed in his first goal for Sundowns - his first goal at club level since 2014.
Going into half-time at 1-1, Downs had a chance to assess what had worked and what hadn't worked in the first half.
This was a game to avoid high-risk passes into the midfielders and instead look to use Maboe, Morena and possibly substitute, Phakamani Mahlambi to turn the Wydad defence.
Mosimane's side also needed to address the issues they were having from corners and long throws, whilst finding some composure when defending crosses in the box.
---
Second Half – Nakkach Frees Left Side
---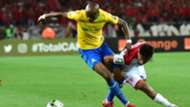 Immediately in the second period, Wydad looked to move Nakkach further over to the left half space to get himself free and to give even more license to Nahiri and El Haddad to attack up the left.
It took less than two minutes for the home side to go in front.
With Nahiri under pressure, Kekana moved over to try to win the ball and was easily bypassed by a pass to Nakkach. His pass released Haddad who ran in-behind Ngcongca, and when the left winger's shot by parried by Onyango, Aouk was on hand to finish.
The home side were a big danger in the early minutes of the second half. El Haddad headed a cross wide (with left-back Nahiri inside the box at the back post) and then El Karti fired over as he picked up a second ball after a diagonal onto Langerman.
---
 Wily Wydad
---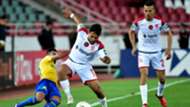 After an elbow on Sirino from Nakkach, the Uruguayan was booked for a retaliatory foul and looked on the verge of a red card.
This made the first substitution an easy one as Mahlambi came on up front, with Maboe deeper.
The pace of the former Al-Ahly forward gave Downs some threat, and he missed a good opening when picked out free in the box.
However, he came on to take set-plays and put in wasteful corners and freekicks into the box instead of using the short deliveries that caused first-half problems to Wydad.
---
 Coaches Try To Change Game
---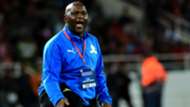 Both coaches looked to change the game as Wydad withdrew the effective but now fatigued duo of Saidi and Babatunde for Yahya Jabrane and Zouheir El Moutaraji respectively.
Later, Aouk came off for Gabriel Okechukwu with El Moutaraji moving wide.
None of these substitutes made any great difference.
The key man was El Haddad who continued to give Ngcongca and Nascimento a torrid time, beating them with dribbles or quick one-twos.
One pass set up a shot for Nahiri, which he put into the side netting.
Another late run past the duo saw Zwane head against his own post.
Wydad number 11's was practically unplayable during this period.
Sundowns threw on Lyle Lakay for Maboe, but instead of going to a defensive winger role, he played high up almost as the frontman.
This looked a change for greater attacking energy rather than defensive solidity.
Wydad had the two best late chances – the Zwane own goal worry – and a late opening for Ozechukwu after Langerman's misguided attempt to chest a cross down to Onyango.
The Nigerian had an air shot with the goal gaping.
---
Summary
---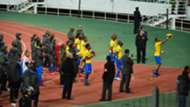 This was a decent result for Sundowns and probably at least one goal too few for Wydad considering the 7-8 clear chances they made in the game.
Sundowns are 12 home CAF Champions League games unbeaten and after their 5-0 win against Al-Ahly last time out, both sides probably left this game thinking that Sundowns hold the advantage ahead of next week's second leg.
One possible factor in their favour is the suspension of dangerous left-back, Nahiri who was booked in the second half and will miss the second leg.