Africa Cup of Nations
I'll sack any assistant who accept offers from agents, says Appiah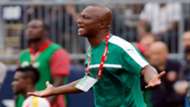 Ghana coach Kwesi Appiah has refuted suggestions that many football agents and intermediaries have recently tried to corrupt him and influence his call-ups ahead of games.
The 57-year-old took over from Avram Grant in July in his second coming and the Black Stars have seen a tremendous change under his guidance.
Several first team players and known faces like the Ayew brothers, Razak Brimah and Agyemang Badu have been laid off for new entrants but he insists everyone given the opportunity deserved it as he prepares a team for the 2019 Africa Cup of Nations.
"My call-ups are not influenced. You can't even try it because I'm rich in my own way. When they say somebody is rich, it does not mean you have money to look after the whole Ghana but you're called a rich man because you have your peace of mind," Appiah told Happy FM.
"You can have whatever you want at any given time without nobody's help, that's how you are considered rich.
"If I have $400 and I know that's enough to take care my family, I'm content with it so why should I try to seek for more from people? But it's like people know my character so they don't approach me with such talks.
"If you have a good player and you try to induce me to call him, I will even lose interest in the player because I believe if the player is good you don't need to pay any bribe before he can earn a call up. I'm building a solid team for the Afcon and will not allow anything to destroy it."
Appiah also warned his assistants in their dealings since he would not allow his reputation to be tarnished through them.
"People maybe have the thought that they can go and talk to any of my assistants in regards to giving their players call-ups but I always tell my assistants that if any of them allow himself to be induced by any agent and I hear about it, I'll have no option than to sack him."
In 2014, Appiah in an interview with Montie FM, revealed that he rejected a whopping sum of €25,000 from a 'man acting on behalf of a player to induce him' to invite the footballer for the 2014 Fifa World Cup.