AFC U16 Championship
'I'll get a gun and shoot myself!' - jokes Lim after his charges' early AFC exit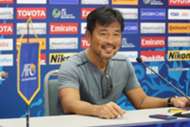 ---
BY        ZULHILMI ZAINAL       Follow on Twitter
---
After his Malaysia U-16 charges fell to a 2-0 defeat to Japan in their final Group A 2018 AFC U-16 Championship match and exited the tournament, head coach Lim Teong Kim was asked by a reporter about his future plans. 
Malaysia vs Japan match highlights
His answer? "Get a gun and kill myself."
Thankfully he was only joking, and although his attempt to introduce a little levity in a press conference room full of local media personnel who had just seen the home team knocked out of the tournament early was questionable, he was not joking around on the question of the National Football Development Programme (NFDP), which he heads.
Throughout the press conference, the former Bayern Munich youth coach defended the government-run project which he has overseen since its inception in 2013, arguing that result is not the aim of youth football development.
"Are you satisfied with the performance, or are you thinking about the results? Have you seen a Malaysian team play this way before? (Judging on the result) is not the right way of thinking about youth development.
"The short-term goal was to qualify for the U-17 World Cup, while the long-term goal is to develop footballers. We can't shut up shop the first moment we fail. We have to invest in development, later these players will don the national colours and they will be good players. If we don't start now, when else are we doing it?
"Ask the Japanese boys; when did they start playing football? Our boys started doing it when they were 11, some 13. This is late and we have a lot of catching up to do," said the former Malaysia international. 
He however was mum on the future of the programme, which was started by the Malaysian Ministry of Youth and Sports.
"I don't know. I don't want to comment when I don't know."
Read more on Malaysia U-16 and the tournament.
Also follow Goal Malaysia 's Instagram account!
 

 

A post shared by Goal Malaysia (@goal_malaysia) on Sep 25, 2018 at 1:19am PDT