Premier League
Ignore Man Utd controversy, Dani Alves will help establish City as best in Manchester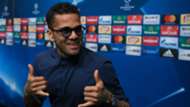 ---
COMMENT
---
Since the news emerged that Manchester City are closing in on a deal to sign Dani Alves, a number of Blues supporters have made it clear they do not want the move to go ahead.
There are some who believe that, at 34, Alves perhaps now does not have the legs to consistency replicate his best form and some who go the opposite way and suggest a player of such pedigree would not want to rotate with Kyle Walker, which is Pep Guardiola's intention.
Alves hits out at media over Higuain video
But there are also some who have not forgiven a cruel barb that Alves is supposed to have aimed in City's direction ahead of their Champions League game with Barcelona a couple of years ago.
City fans, rightly so given some of the tired Twitter banter over the last few years (#Emptihad etc), are sick of being told there is only one club in Manchester: United. 
Indeed, many of them take great pleasure in pointing out that United are actually based in Old Trafford, which is in Stretford, not Manchester, and that City are quite literally the only team in Manchester.
That is apparently something which escaped Alves' attention. Some City fans are against the signing because they believe the Brazilian went out of his way to disrespect the club, to play up to the lazy belief that United are the be all and end all of Manchester football.
But as has become customary in this modern world, and not just in football, his words have either been twisted or simply misinterpreted.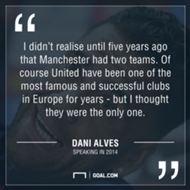 Here's what he actually said in 2014: "I didn't realise until about five years ago that Manchester had two teams.
"Of course Manchester United have been one of the most famous and successful clubs in Europe for many years - but I thought they were the only one.
"When Manchester City got new owners and started buying some of the best players in Europe everybody knew who they were - but until then I must be honest I didn't know about them.
"I think this is the reality of modern football. You don't need 10 or 20 years to establish yourself - if you have rich owners you can do it in two or three years. It doesn't matter if I or anybody else agree with it - it is just the reality of today."
Even if he intended to put a few noses out of joint ahead of a big European clash, it is hardly a stinging burn. It's certainly nothing compared to Sergi Guardiola, who Barcelona signed in 2015 but immediately released because he had previously tweeted his support for Real Madrid and disdain for Catalunya.
But it was surely not Alves' aim to cause offence anyway. After all, Premier League football, with a focus on the old "top four", was not shown in Brazil until 2000, a couple of years before Alves left for Sevilla - and he hadn't heard of them either.
"I'm playing for Bahia in the Brazilian league when a big scout comes up to me and says, "Sevilla are interested in signing you."' he wrote in an article for the Players' Tribune.
"I say, "Sevilla! Amazing".
"The scout says, "Do you know where that is?"
"I say, "Of course I know where Sevilla is. Sev-iiiillaaaaa. I love it".
"But I have no f******g idea where Sevilla is. It could be on the moon for all I know. But the way he says the name makes it sound important, so I lie.
"A few days later, I start asking around, and I find out that Sevilla plays against Barcelona and Real Madrid."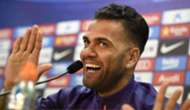 Yes, while in Sevilla he would have been geographically closer to Manchester than he was to the Spanish city when he was in Brazil, the two clubs never crossed paths. In his early 20s, while trying to make a success of himself in Europe, could he have been expected to be watching the last few games on Match of the Day?
City fans know their history very well, and while they take umbrage to the lazy barbs of oppositions supporters and occasionally players, they know full well where they came from to get to this point.
Alves would not have been the only overseas footballer, or indeed overseas football fan, to have allowed City to slip off his radar as the club yoyoed between divisions and then tried to establish themselves in the Premier League at the start of the millennium.
Silva would retire if Man City win Champions League 
It must be said that the majority of City fans are on board with the idea of signing Alves, and that is fortunate, because should he arrive at City he will provide exactly what the club need: a winning mentality, fantastic character and, maybe most importantly, an understanding of Guardiola's system.
In the same article in which he admitted to not having heard of Sevilla, he also praised Guardiola, and it is no surprise that he is desperate to play for him again.
"If you turn the word computer backwards, it spells Steve Jobs," Alves wrote, showing he has not always been overly bothered about the details.
"If you turn the word football backwards, it spells Pep.
"He is a genius. I'll say it again. A genius."
Alves may not have been aware of City's history, but it looks like he will help shape their future. What he contributes on the pitch should surely count for more than an honest, and fair, admission.