IFA Shield
IFA Shield 2018: Mohun Bagan beat SAIL Burnpur Academy to set up final with Quess East Bengal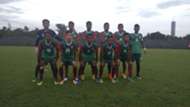 Mohun Bagan emerged victorious in the IFA Shield semi-final as they beat SAIL Burnpur Academy 2-1 at the Mohun Bagan ground on Tuesday. Bagan's Asif Ali Molla opened the scoring in the 25th minute but Burnpur's Israfil Deewan equalised soon (27') after. Subha Ghosh scored the winner late in the second half (85') to fire Bagan in the finals.
It was a lively start for SAIL Burnpur as they created two goal scoring chances within the first five minutes.
Abhijit Mondal's free-kick went across the face of the goal but none of the white shirts could latch on to the curler. Seconds later, Burnpur fired another shot at goal which went whiskers away from the near post.
Bagan gradually started seeing more of the ball but lack of discipline in midfield hindered their progress in the attacking third. On the 15th minute mark, Bagan's keeper Asanja Daimary made a finger tip save to deny Sudip Acharjee's volley from bulging the net.
Bagan drew first blood when Asif Ali Molla slotted in from close range from a set-piece floated deep inside the box by Didwm Hazowary. It was a quickfire response from Burnpur as Israfil Deewan hit the back of the net after a defensive lapse from the Bagan backline.
Mohun Bagan could have regained their lead if only Subha Ghosh had kept his shot on target from six yards out after latching on to an inch-perfect cross from Das on the right.
There was a moment of controversy when a close range effort from a Green and Maroon player seemed to have crossed the goal line but the match official decided otherwise.
In the second half, Mohun Bagan continued to dominate proceedings but their wastefulness in front of goal kept the two teams locked at 1-1.
When the match seemed almost destined to go to extra time, Subha Ghosh found the back of the net in the 85th minute after opposition goalkeeper Kisan Singh fumbled while collecting Samar Kumir's effort.
With this win, Mohun Bagan have entered the final where they will take on arch-rivals Quess East Bengal on July 19 at the Barasat Stadium.