Arsenal
'If we don't go until the end, we don't deserve to be here' - Oxlade-Chamberlain's Arsenal rallying cry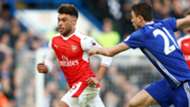 Alex Oxlade-Chamberlain has called on Arsenal's players to fight "until the end", but admits mistakes at "crucial times" cost them in a London derby against Chelsea.
The Gunners suffered a 3-1 defeat at Stamford Bridge on Saturday, with a humbling setback against capital rivals all but ending their Premier League title challenge for another year.
Chamberlain 'didn't mean' to like tweet
Arsene Wenger's side are now 12 points off the pace and glancing over their shoulder at those chasing down a top-four finish.
Oxlade-Chamberlain concedes that the top-flight crown is now probably out of reach, but has urged everyone at Emirates Stadium to continue pulling in the same direction and not get downhearted.
"It's slipped further out of our hands and there's no hiding from that now," he said on the club's official website.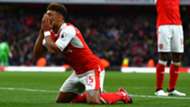 "The gap is much bigger now and it's going to be hard. But we play for Arsenal Football Club - if we don't go until the end, we don't deserve to be here. We've got to keep doing that."
Arsenal did allow their standards to dip against Chelsea, with Antonio Conte's side able to wrap up the points with relative ease.
WATCH: Ozil blasts Alexis & Monreal
Oxlade-Chamberlain acknowledges that the Gunners were not at their best, but feels fortune also worked against them in west London.
He added: "We didn't take our chances and made some crucial mistakes at crucial times.
"They took their chances - I think the first goal was a little bit unlucky on our part. They hit the crossbar and the bounce went for them. [Marcos] Alonso got the jump on Hector [Bellerin] and that was 1-0.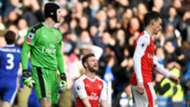 "But we knew we were still in the game, and at half-time we said we had to keep going.
"We came out in the second half and controlled spells of the game. They controlled spells but it was a great goal from Eden Hazard, which we should have stopped earlier at source. That was disappointing.
"Then a mistake at the end killed the game for us. Olivier [Giroud] got one back but at the end it was too late.
"At the top level, against a team like Chelsea, there's a good chance they'll punish you if you make mistakes and they did that."