African All Stars
'I wouldn't trade him for anyone' - Adi gets Caleb Porter's praise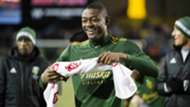 Portland Timbers boss Caleb Porter  has isclosed that he would not trade Nigeria's Fanendo Adi for anyone in the Major League Soccer.
Adi scored a brace in stoppage time in Timbers' season opener against Minnesota United  to give them an incredible 5-1 victory.
Porter who guided Portland Timbers to their first MLS Cup triumph in 2015, is full of praise for the 26-year-old's physical qualities and has warned all MLS clubs not to waste their time lining up bids for the striker.
"He had become a very complete player," Caleb Porter was quoted by OregonLive.
"Not many guys have the physical tools that he has in terms of size and mobility.
"Usually you get a guy that has his size and they're not very mobile. He has a rare combination of size and speed... I wouldn't trade him for anyone in the league."
Portland Timbers take on LA Galaxy at the StubHub Center on Monday for their next league game.