World Cup
'I would never mock the height of a goalkeeper' - Courtois clarifies Pickford comments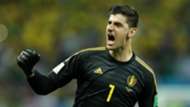 Thibaut Courtois insists he would 'never mock the height of a goalkeeper' following criticism of England's Jordan Pickford.
Following Belgium's 1-0 win over England in the World Cup group phase, Pickford was criticised for failing to keep out Adnan Januzaj's winner.
Speaking after that game, Courtois had suggested his height advantage over Pickford of around four inches would have seen him save Januzaj's shot.
"The goalkeeper is 10cm smaller than me," he told  Voetball24 .
"I would have caught it. He was too busy throwing his legs in the air."
The Chelsea keeper's comments provoked a reaction from Pickford after the England No.1 delivered a starring role in the Three Lions' penalty shootout victory over Colombia in the last 16.
Pickford produced a flying save before Colombia scored their equaliser and then brilliantly kept out Carlos Bacca's spot-kick in the shootout.
"I have got power and agility," said Pickford on Tuesday after the win over Colombia . "I don't care if I'm not the biggest keeper because it's about being there in the moment and making the save, and I was.
"It is all about the set position and I got a hand to it. I did all my research.
"I was in a massive whirlwind but I saved it with my left hand. I've been criticised for going with my top hand, but as long as you save it, that's all that counts.
"I might be young but I've got good mental strength and experience and I used that today."
However, after helping Belgium to knock out World Cup favourites Brazil in the quarter-finals, Courtois stressed he did not mock Pickford.
Courtois, who made an excellent one-handed stop from Neymar late on, told the BBC : "Can I say one more thing?
"This thing about Jordan... I want to clarify it because I heard a lot of stuff. I never mocked his height, I want to make that clear. I would never mock the height of a goalkeeper - I think that he's a great goalkeeper, he proved that last year.
"I only said that because he got a touch, maybe I would have saved it because I'm 15cm taller than him - I never mocked his height because I know he's a great goalkeeper. I want to make that clear!"