Indian Arrows v Mohun Bagan
I-League 2018-19: Mohun Bagan coach Sankar Lal Chakraborty- We are more confident after getting the win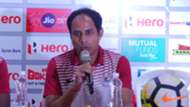 Mohun Bagan bagged their first win of this edition of I-League when they beat Indian Arrows 2-0 at the Barabati Stadium in Cuttack on Saturday. Two goals from Aser Dipanda sealed the three points for the Mariners as they climb to the third spot in the league table. 
Coach Sankar Lal Chakraborty was a content man not only because his team managed to win but also maintained a clean sheet after conceding three goals in their previous two matches. 
"I am happy that we kept a clean sheet today. In the last two matches, we played excellent football but somehow we did not manage to get the three points. These three points will motivate the players as well. Now we should try and maintain this winning habit," said the coach. 
Although Bagan managed to score two goals they continued to be wasteful in front of goal. Henry Kisekka and Aser Dipanda were the guilty parties as they missed at least three goalscoring chances in the first half itself. But the former assistant to Sanjoy Sen did not seem much concerned with the poor performance of his strikers.
"Every match we are making new mistakes and in the next four-five days, we will try to rectify those. We will consider why we missed those chances and also why did the opponent get to create those chances. But we are more confident now after getting the win. Now I am sure that the performance will improve as well," said Chakraborty. 
Mohun Bagan will play Real Kashmir next on November 20 and the tactician has already started to think about his next opponents. 
"We will train at the Barasat stadium to get accustomed to the artificial turf in Srinagar. We might travel a bit early to Kashmir to adapt to the weather conditions as well. Our players are match fit to run 90 minutes."
On the other hand, Indian Arrows' coach Floyd Pinto chose to concentrate on the second-half performance of his team after a poor first-half from his young lads. 
"I think we were far too conservative in the first half. I am very encouraged by the second-half performance. We need to be as decisive and confident as we were in the second half in the upcoming games and the result will be different. I don't think there was any psychological block but we gave too much time and respect to Mohun Bagan. 
"We pressed them higher in the second half and we did that with a  substitution. We wanted to be on the front foot and we started really well. Apart from scoring a goal, I think we were better in the second half. I am happy that they recovered well and we hope to replicate our second half performance against Real Kashmir as well," analysed the Goan tactician. 
Both the teams would face Real Kashmir away from home in their next fixture with Mohun Bagan facing them on November 20 while Arrows will take them on five days later.