East Bengal
I-League: East Bengal set to part ways with Mahmoud Al Amna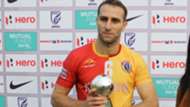 East Bengal and Mahmoud Al Amna are all set to part ways with mutual consent on Monday.

As Goal had earlier revealed, the Syrian playmaker was already on his way out as he hasn't yet recovered from his injury which he sustained during the pre-season in Malaysia. 
The Red and Golds had failed to complete their quota of six foreigners before the I-League as the All India Football Federation (AIFF) had handed them a transfer ban over irregularities in their attempts to sign defender Sukhdev Singh from Minerva Punjab. However, now that the transfer ban has come to an end on November 30th, the Kolkata giants are on the lookout for a replacement for Al Amna. 
On Saturday morning, the Syrian midfielder shared a message on his social media page which read:
"To all East Bengal fans in these few weeks I kept silent in spite of all the injustice by the media because I respect the club. But I have to clarify some things 
"First it is impossible to be the cause of any damage to the club because I became one of you and I feel the pain of people but you should know that the club met with me only on 5/12 (December 5th) after the game of Minerva and I gave up 60 per cent of my remaining dues and agreed on everything with the fact that I was very close to recover and become fit. But I understood the team's situation and especially the derby game is very important to club and the fans.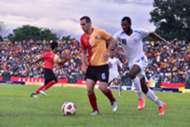 "I hope to be a reason to achieve our dream which we waited (for) 15 years (for the I-League title) but fate has another opinion. East Bengal and the fans will be always in my heart. I will never forget the good memories here and I am proud to wear East Bengal shirt."
Amna played a total of 16 matches in the I-League last season for the Red and Gold brigade and scored three goals. He won the Calcutta Football League (CFL) in 2017 during his time at East Bengal.

Quess East Bengal CEO Sanjit Sen told Goal, "I have a lot of respect for Mahmoud as an individual and it is sad that we have to end our relationship this way. However, I will try my level best to find a solution and part ways in an amicable way."

"We have already reached a severance settlement in principle and he will be paid all his dues till the last penny. We have already submitted our offer. We hope to finalise the deal before Monday."