I-League
I-league 2017/18: Minerva Punjab and Chennai City - The contrasting tale of two newbies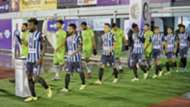 A year back, both Chennai City and Minerva Punjab were languishing at the bottom of the I-League table as they eventually finished eighth and ninth in the table in their debut campaign in the top-tier of Indian football. While the Punjab-based side have managed to turn their fortunes and are gunning for the league title now, the Rohit Ramesh owned side is fighting a relegation battle to barely stay afloat.
It is clear that Minerva had done their homework in the pre-season as their foreign recruits have put in an outstanding shift throughout the season. Their scouting has been top notch, as barring Armand Bazzie and goalkeeper Kiran Limbu, the remaining overseas players have stuck together since the beginning of the season which have helped them a knit a close understanding.
Chencho Gyeltshen, Kassim Aidara, Eric Dano, and William Asiedu all made appearances in their first league game against Mohun Bagan where their second-half surge to equalize set the tone for the rest of the season.
Chencho and William have consistently put in assured performances upfront whereas Dano has stood tall in defence.  Skipper Kassim has also proved his mettle as he marshalled the midfield with his ability to break up play and initiate counter attacks. The off-shore players have also blended well with the Indian contingent and Minerva's knack of scoring late goals highlights the team spirit fostered by a determination to fight till the final whistle.
Whereas, Chennai City have been busy playing musical chairs with their foreign recruits. Their scouting has been half-hearted and it was not until February 7, they had managed to field the full quota of five foreign players. The quality of the overseas players has also come under the scanner as barring an average performing Jean Joachim, all the others have been poor.
Uros Poljanec, their Slovenian goalkeeper has been far from consistent under the sticks and his dreadful lazy clearance against Minerva, which led to a William Opuku goal, had made him a subject of trolls and memes. Veniamin Shumeiko, has dealt well with the aerial threats but his lack of pace has often put him in trouble against the pacey forwards. Recent additions Aleksandar Rakic and Donghyeon Kim have also failed to provide stability to their drowning ship and the 7-1 thrashing by East Bengal has definitely been the last nail in the coffin.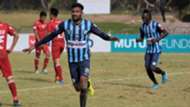 Minerva have backed their Indian players through thick and thin and they, in turn, have returned the trust with their performance on the pitch. The likes of Bali Gagandeep, Abhishek Ambekar, Kamalpreet Singh have become household names in Punjab with their impressive runs and high work rates to make up for the deficiency in quality when compared to their illustrious Indian colleagues playing with the Kolkata giants. The fitness level is high which aids their high pressing game which allows them to create a numerical superiority on any part of the pitch which in turn boosts their ball-winning quality.
For Chennai City, only Michael Soosairaj and midfielder Sinivasan Pandiyan have impressed among the Indian contingent. This shows that their strategy to stick to players indigenous to Tamil Nadu has completely backfired. Ravanan in defence is a shadow of his past and even teenagers like Aniket Jadhav and Rahim Ali managed to fly past the veteran defender with ease.  Soosairaj had suffered from lack of support from his teammates throughout the campaign and the 23-year old midfielder has often been witness to horrendous misses from the forwards even after setting them up with inch-perfect deliveries. 
Khogen Singh was dancing with joy after his side drew 1-1 with Mohun Bagan. But the former Air India left back, did not allow complacency to creep in his side and instead used the point earned as an inspiration to aim for the stars. Minerva went on to consolidate their position on top by winning four consecutive matches before finally going down 2-1 against Aizawl away from home.
On the other hand, V Soundararajan after beating Mohun Bagan 2-1 in Kolkata went on to compare that victory to a world cup win. Instead of collecting positives from the match and setting future milestones, the team decided to rest on their laurels. After that match, they collected only six points from eight outings. This shows that the Southern outfit lack ambition and they are themselves to blame for their current position in the league table.
Co-incidentally, Chennai play their last match in this edition of I-league against Minerva. When the men in green will be trying to hold on to top-tier football, the Warriors will put their blood and sweat to win another battle and take a giant stride to emerge triumphant at the end of the war.