I-League
I-League 2017: Robin Charles Raja is elated as his Chennai City FC got the better of Aizawl FC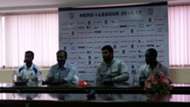 Khalid Jamil's Aizawl FC have been tricky customers ever since the I-League 2016-17 season opener and looked like real title rivals until Chennai City stole that thunder at the JL Nehru Stadium on Saturday evening.

The hosts capped off a near perfect game as they stemmed all of the  Red's creative forces and almost pulled the plug on Aizawl attacks.

Robin Charles Raja was definitely a man content with his bunch of boys as the I-League newbies got the proverbial monkey off the back with their first win.

"I think our hard work played off. We were better after the goal and I don't think we were holding on much. We made sure in training that we concentrated between 55th and 80th minute which is when we have been conceding lots of goals. Normally, winning the ball in the attacking third gives you a lot of goals. We tried to do that today and in training and it paid off", assessed the Chennai head coach.

The 50-year-old explained his tactics, "Our plan going into the game was to hold Mahmoud Al Amna and Alfred (Jaryan). They are their creative outlets so far and Darren (Caldeira) stuck close to Al Amna well. Later in the second half, I asked Charles to get tight to Alfred Jaryan and he did that."

When asked how did the absence of the two more experienced campaigners (Karanjit Singh and Dharamraj Ravanan) did not dent their plans, Raja was quite lucid about it. "It doesn't matter (playing without Karanjit and Ravanan). All that matters is three points and we got that. I felt Abhra Mondal did well. So did the others. I think we should have got the third goal as well."

Meanwhile, facing his first loss of the season, Khalid Jamil came up with his age old excuse of letting in goals - 'lack of concentration'.

"We conceded two silly goals which were our mistakes. We can say there was a lack of concentration in the team."

"I thought we could have gotten a point from this game because we created chances even after going a goal down. Overall, I'm happy that we got three points from two away matches," opined the Kuwait-born coach.

Ever since the second round of fixtures, Aizawl have always been positioned in the top two and now with this loss, they have a chance to let East Bengal leapfrog them provided they win their away game at Minerva Punjab.

"There is still a long way to go in the league," Jamil replied cheekily when asked if his side spurned the chance to go level with leaders Mohun Bagan.
​