I-League
I-League 2017: Bengaluru FC's Albert Roca - 'India needs to embrace Spanish style of play'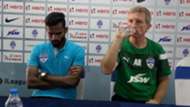 As Bengaluru FC look to keep their momentum going after picking up a win at long last in Punjab last weekend, head coach Albert Roca made an appeal to his players to step up collectively and overcome their problems up front. Roca was interacting with the press ahead of their game against South Indian rivals Chennai City FC. 
"I think we have one of the best squads and have a lot of options up front. But we are not lucky in front of goal. We have to resolve the issue and we have brought in Marjan Jugovic. It is late but it is something that we cannot change and we have to manage the situation. We can't put pressure on him but he has enough quality to help us. All the players are involved in this and we have to resolve this collectively," Roca appealed. 
PREVIEW: Chennai City FC vs Bengaluru FC
The Spaniard then went on to state that India needed to embrace the Spanish philosophy of keeping the ball and compared the Indian players' physicality with that of the Spanish.
"My philosophy is one where the ball is more important. Building out from the back is paramount. This is not something very common here. Even if the result doesn't come, I can't change. India has to understand this way. Indians are more like Spanish people.They are not physical or big. They need to be more tactical and technical. The better way for India to grow is by embracing this approach. It's my humble opinion," he opined. 
The 54-year-old went on to comment on the amount of football his players have been playing recently and hoped that Sunil Chhetri won't be overburdened in the upcoming International games by Stephen Constantine. "For some, yes (too much football). Sunil (Chhetri) is important for my team but he is important for the national team. I hope he plays only one game. Otherwise, it will be bad for both India and us. He shouldn't be overworked. But it is out of our control and we have to manage what we can control," he said. 
The former Barcelona assistant went on to concede that Bengaluru are unlikely to defend their title this time around.
"We are a little bit far from the title. We want to take it game by game and have better performances. Last game, our performance wasn't the best because the pitch was awful and even tomorrow the pitch won't be good but it should be better than what Minerva had," he conceded. 
Roca also acknowledged that Chennai City have been playing well of late and hoped for a good game on Wednesday while confirming that Arindam Bhattacharya will start between the sticks. 
Chennai City coach V Soundararajan, on the other hand, paid homage to Bengaluru FC and stated that his team was relishing the chance to play them. He said, "Now, BFC is one of the best sides and have experienced Indian internationals. It's a golden chance for us to test ourselves against one of the best sides." 
"They are well organised. But we are bottom and we need to go all out. It is an incentive to go and beat the best. So we will try and do that," he added before concluding.