I-League
I-League 2017-18: Luis Norton - We are not aggressive in front of the goal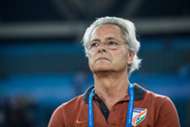 Indian Arrows went down 0-2 against NEROCA FC in their 11th match of the I-League at the Tilak Maidan on Tuesday evening. Arrows suffered their seventh defeat of the season in Goa and are struggling at the seventh position in the league.
On being asked about poor finishing, Luis Norton de Matos backed his boys and said, "You talk about 16-year-old boys? I think there are no teams with players of 16 years who play in the I-League (top tier league). Mistakes are part of the process. If we had a little bit more experience we could have won more games by now. We are lacking offensive experience. The players are shy but the second half was fantastic with assurance. Without the support of foreign players, it's difficult, but I'm happy with the overall play."
Matos blamed defender Jitendra Singh for conceding a silly goal in the dying moments of the match. "It's very hard for any coach to concede a goal like the first one. Incredible. The communication does not exist. I cannot talk about the second because it was something to laugh over. I'm very sad for the second goal. At any circumstance, I cannot accept that the player (Jitendra Singh) can play like (Franz) Beckenbauer or like a Brazilian. A defender has to defend and not play like [Lionel] Messi. What is important is that the players need to learn their lesson. On Christmas, we gave two goals and today when we are anticipating the next Christmas, we gave away two more," said the Portuguese coach.
The Arrows boss refused to praise NEROCA's performance tonight even though the visitors scored twice in the game.
"Even if they (NEROCA) play with a lot of experience, they had no possibilities to score and for us the minimum today was a draw. What counts are the goals and we have to learn from it. They were fighting for 1-0 all the time. If we scored first we would have won the game for sure. They scored a goal and after that, they didn't run. NEROCA don't have the rhythm like my team and they were very tired. [They were playing] long balls and [they had] foreign players to keep the ball."
Matos once again pointed out that not having a single home venue is affecting his side. "There are two problems for us. We never play at home. If it's my home, I need to cut the grass because the grass is too high which makes the game slow. We only had one training session yesterday and we had shots training. Because the grass was too high, every ball goes to the other side of the moon. We worked in a field in Bambolim but we played here and in Delhi. We do not have our home. The grass is good but it's too high. Yesterday I requested if the grass can be cut but the answer was no. It's not our field so it's normal."
NEROCA boss Gift Raikhan praised his opponents Indian Arrows and agreed that it was a difficult game for his side. "We knew that Arrows would come back very strong. Everybody knows that because they are an energetic team of youngsters. They do not get tired. We had one plan, which was a success. I'm not going to reveal the plan, but it is a success. We calmed down (when required), we kept pressure and we did our job. No doubt, they (Arrows) gave us a very hard time. I really want to say that they are a very good team but a little bit inexperienced in the attacking third."
On introducing Saran Singh in the match at a decisive moment, Raikhan opined, "I was thinking that I would put pressure with the long ball, but the thing is I needed a midfielder (as Arrows were attacking at the time). I put three midfielders so that we could go for the counter."