Super League
'I hope this is our lowest point of the season' - Cheng Hoe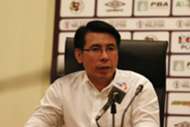 ---
BY        ZULHILMI ZAINAL       Follow on Twitter
---
Having seen his Kedah side get hammered 5-0 by T-Team in their Super League match on Saturday, the Red Eagles boss Tan Cheng Hoe hopes that the match was the worst performance of the season by his side, and they will bounce back in the following matches.
Dilshod Sharofetdinov opened the scoring in the 10th minute, but Rizal Ghazali's sending off near the end of the first half opened the floodgates for the homeside to add four more goals in the second.
The hammering also meant that Kedah, who at one point were leading the standings, are no longer the only side to go unbeaten in all competitions this season.
He blamed the defeat on individual mistakes, when interviewed by match broadcaster TV3 following the encounter.
"In overall, we conceded the goals due to the many individual mistakes we committed.
"I hope my men can bounce back in the next match," lamented Cheng Hoe.
He added that he wants the trashing to be the worst performance in the season by his side, and wants them to recover quickly.
"I think my players knew what they did wrong, and I want this to be the game that we failed to perform.
"I want them to turn around their form and momentum, with the help of teamwork. What's important is the coming matches," he explained.