Romelu Lukaku
How West Ham passed up the chance to get Lukaku for £65m less than Man Utd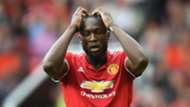 West Ham could have landed Romelu Lukaku for £65 million less than Manchester United but opted against a deal, David Sullivan has revealed.
The Belgium international moved to Old Trafford over the summer for £75 million having proven himself as a Premier League frontman during spells at West Brom and Everton.
Both of those clubs took the 24-year-old on loan from Chelsea, with the latter reaching a permanent agreement in 2014.
West Ham could, however, have landed Lukaku for just £10m had then manager Sam Allardyce not opposed the tabling of an offer to London rivals at Stamford Bridge.
Hammers co-owner Sullivan told The Guardian on an unfortunate saga: "I asked Sam if he fancied Lukaku.
"Sam said he'd take him on loan but he wouldn't buy him for that. Again I've supported the manager."
Sullivan and fellow owner David Gold have pumped considerable funding into West Ham in an effort to establish the club in the Premier League and guide them towards a bright future.
A move to the London Stadium was intended to help aid that quest, but mismanagement on and off the field has seen the club stagnate somewhat.
Slaven Bilic has been removed from his managerial post this season and replaced by David Moyes, with recent transfer dealings playing their part in that process.
Sullivan admits that he is partly responsible after taking a step back from player recruitment, but he intends to right those wrongs.
He claims Joe Hart, Marko Arnautovic, Javier Hernandez and Pablo Zabaleta were all Bilic targets that have so far failed to deliver, but funds will be made available again in January.
Sullivan added: "I regret it in a way, the first year I was more involved and the next two years I was less involved. We've let the manager pick who he wants.
"Maybe going forward we won't. We have to take a look at the age of the players we're signing. We will have to bring in two or three in January. They won't be old journeymen, they will be young players. They won't be 32."