Orlando Pirates
How scoring an own-goal in Soweto Derby killed former Orlando Pirates midfielder Daine Klate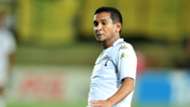 The Soweto Derby fever has hit the country and with 48 hours left to the clash, Goal spoke to former Orlando Pirates winger Daine Klate to share his sentiments.
Klate is one of the most decorated players in the local game, having won all Premier Soccer League (PSL) trophies in his career, namely MTN8 Cup, Telkom Knockout as well as the Nedbank Cup.
Now on the books of reigning PSL champions, Wits, Klate spoke out about scoring an own-goal in the Soweto Derby against Kaizer Chiefs at the FNB Stadium.
The Buccaneers were led by Dutch coach, Ruud Krol in November 2010 and Klate reveals how he felt following a moment which he calls a lowlight in his career.
"Obviously, it was not a good feeling to score an own-goal in front of so many people, in a big game such as the derby," Klate told Goal.
"It was my low as far as the game is concerned because I had never scored an own-goal. I can say I was disappointed because we went on to lose the game 3-1," he continued.
"Our coach was Krol at the time and he always told us to think with our minds during the game and not allow our hearts to do the talking," he revealed.
"I was trying to help in defence, I tracked back only to find out the ball hit me and went in, that was a perfect example of playing with your mind and not your heart," Klate said.
"I think if I was calm and thought the ball would hit me and went in, we would be talking a different story right now," he stated.
Speaking about how he managed to bounce back after scoring in his own net, the former SuperSport United and Transnet School of Excellence player added that his teammates played a big role in ensuring he picks himself up.
"It was not easy for me and the team after netting an own-goal, and we were 3-0 down – it was a bad start for us," added the man with 13 Bafana caps.
"But my teammates ensured all that was behind us and a few weeks later things improved and I managed to pick myself up. Credit goes to my teammates who helped me to pout the incident behind me," he disclosed.
"I can remember in the other derby that I defended, cleared the ball on the line and scored another goal. It was great feeling for me and for the team. To score and defend in the MTN8 Cup and save the other goal was a great comeback and for me I can say it is 2-1, (one own goal, one goal and one save)." recalled the winger.
The man known for his telling crosses down the left wing concluded that Milutin Sredojevic's men will win the Saturday's duel.
"I am still a Pirates supporter and I think they will in it and make the title race more interesting, they want the league title and this is their chance," concluded Klate.