Mexico
How Mexico's Alvarez converted practice squad experience into World Cup roster spot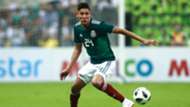 When 20-year-old Edson Alvarez sets foot in Moscow and begins to travel to Mexico's first game of the World Cup, it won't be his first time in the city. Alvarez has been here before, not in the squad for Mexico's Confederations Cup run in 2017, but brought along to train and see how the country's best do things.
With Diego Reyes an injury doubt for Saturday's friendly against Denmark and the tournament that follows, the versatile Alvarez has stepped into the gap. How did he end up on the World Cup roster after a lackluster season with Club America?
The groundwork was laid around this time a year ago. Mexico manager Juan Carlos Osorio looked at his Confederations Cup squad and noticed a lack of youth. Mexico has a tradition of taking one or two bright young players along to major tournaments. That helps explain why Rafa Marquez is set for his fifth World Cup while Andres Guardado may catch up to him in 2022. With the two youngest players in the Confederations Cup squad 21-year-old Hirving Lozano and 23-year-old Carlos Salcedo, Osorio elected to bring Alvarez and Chivas defender Alejandro Mayorga to Russia to train with the group and learn the ropes.
"Of course," the time spent watching players like that duo plus defenders Hector Moreno and Salcedo helped him get better, Alvarez said at Mexico's media day in May.
It showed. He was a standout on a disappointing Gold Cup team, holding down the right-back spot and both getting into the attack often and frustrating attackers. That led to more and more call-ups for the teenager, who had earned his international debut in January 2017.
"The truth is from the first time I was called I couldn't believe it, being a young guy who at that time was 18 or 19 years old. I felt really happy to be involved with these stars, with these 'cracks' who have done a lot of things in their careers," Alvarez said. "They've come to me giving me advice, advice on the field as well. I feel really fortunate to have been in with the group because with this I grew daily, I became more and more professional from what they told me and really they're things I can't describe to you because they showed me their experience and gave me confidence and made me feel really, really good."
Despite the strong summer, it wasn't a tremendous season for Alvarez. He lost his starting spot with America at the beginning of the Clausura, eventually seeing time both at right back and center back when injuries or suspensions forced regulars Paul Aguilar, Bruno Valdez or Emanuel Aguilera out. Even then, he struggled in the Liguilla against Santos Laguna's attack as America fell to the eventual champion in the semifinals.
Osorio still has faith in Alvarez and has seen a pair of serviceable showings in the friendly matches that preceded Saturday's finale. It shouldn't come as a huge surprise that Osorio, a manager who loves to move around pieces on the field to try and find an advantage in the tactical chess match, appreciates the option to put Reyes all over the board. In English, we hardly use the world 'polyfunctional', but its Spanish equivalent is used often to describe players like Alvarez who can play a number of positions.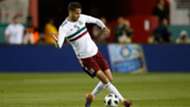 "We're looking for the 'polifuncionalidad' Edson has. It's something we're seriously considering," Osorio said before he named his final list. "We see a player who is very similar to Diego, who can play as a center back, on the outside and at times as a central midfielder."
With Reyes struggling with a hamstring problem, Alvarez suddenly has a spot on the squad - helped along by Nestor Araujo's continuing knee issues that forced him out of the squad. The 20-year-old realizes his good fortune is a consequence of bad luck for others but said he still has to make the most out of the chance.
"Of course it's sad. Nobody wishes anyone any ill, especially not a teammate," he said. "We feel sad but we have to do our job. It's part of the game. Unfortunately it happened to him but he knows we're supporting him and are there for him at all times and we can't do anything except for continue forward."
Now, the manager has to be patting himself on the back for spotting Alvarez and giving him a taste of what he needed to get to the highest level. He isn't there yet - though Alvarez said, "If you're a player in Europe, it's because you deserve to be. You've done something right. My dream also is to play in Europe."
Even if he's not yet at that level, he's still a player who Mexico may need to get out of the group stage in Russia. How fit Reyes is and whether Osorio wants to play him in the midfield or in defense will determine just how much time Alvarez sees against Denmark or if there's any chance at him starting against Germany.
Having that chance, though, is more than he expected just a year ago when he was training, wide-eyed, next to some of the best players Mexico has ever produced. There's no time to be amazed now. Alvarez is on the squad. His job now is to prove he belongs.