Western Sydney Wanderers
How Josep Gombau is creating a star in Keanu Baccus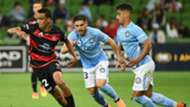 He might not have the flashy skills of Daniel Arzani nor the pace of Joey Champness, but Keanu Baccus is a young Australian worthy of your attention.
Playing as a defensive midfielder for Western Sydney Wanderers this season, the 19-year-old has shined in the shadows of a position never bathed in glory.
Often lining up alongside brother Kearyn, Keanu boasts a similar technique to his older brother and has become a real asset for the red and black in attack and defence.
While occasionally filling in at right back in the absence of Socceroo Josh Risdon, it's the centre of midfield that Keanu feels most comfortable and it's a position he's quickly made his own.
Wearing the number 42, he has made 13 appearances this season after debuting under Tony Popovic last year and he's grown with every game.
With one assist to his name, Keanu is a reliable distributor with the ball at his feet boasting an 83 percent pass accuracy, while he's also willing to get the ball back winning 14 of his 27 attempted tackles.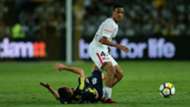 Plucked out of the Wanderers youth squad, the South African born midfielder has to his surprise established himself in the A-League.
"It's a bit harder in the A-League with ten teams and limited spots to play so I'm very grateful to get the chance," Keanu told Goal.
"It was tough to adjust to be honest, they're so much faster and more physical in the A-League so you've got to prepare well and give yourself the best chance to perform on the day."
Wanderers coach Josep Gombau clearly sees something in a player he's often chosen ahead of Keanu's more experienced brother.
Sitting just behind the teenager in defence, Michael Thwaite has seen first hand Keanu's talent and Gombau's appreciation of him.
"Josep really finds him to be a great player and all of his principles and concepts he sees in Keanu," Thwaite said.
"Under Tony he was seen more as a right defender but Josep plays him as a number six.
"He's so versatile, I think both Baccus' when they're playing you can see that probably started at home, they've got that communication on the pitch you can't buy."
— WS Wanderers FC (@wswanderersfc) January 22, 2018
Playing football competitively with your brother is a feat few siblings ever achieve and it's once the Baccus' thought wouldn't happen considering their seven-year age gap.
But happen it has with the duo starting together last week against Brisbane Roar and like any good brothers, they've been looking out for one another on the field.
"He covers me a lot and I like to think I cover him," Keanu said.
"He helps me out, he doesn't scream at me, put me under pressure, he just wants me to play my game and hopefully we can both perform and get the win for the team at the end of the day.
"We're just very comfortable with each other on the field.
"I definitely thought it'd very hard for me to crack in with him in these early stages but just so grateful to be playing with him in the top league in Australia for my hometown club."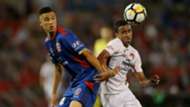 While born in South Africa, Keanu moved to Australia with his family prior to his first birthday and has already represented the green and gold at U20 and U23 level.
After playing in a recent U23 tournament in China, the 19-year-old returned to the Wanderers and found himself on the wrong end of a red card against Perth Glory in his first game back.
Sent off early in the match, a clearly distraught Keanu was embraced by Gombau on the touchline with the coach playing an instrumental role in ensuring the teenager's head didn't drop too much.
"It was hard because I had just come back from China, so to get into the squad and start was good," Keanu said.
"I didn't actually get to touch the ball in that game and the first altercation I had I got sent off.
"It was hard to cope with at first, I thought I maybe ruined my momentum and rhythm in the team.
"He (Gombau) just said to keep my head up. It was a decision I made and it was the wrong decision at the time but he said to just learn from it.
"He wasn't quick to criticise, which was very good, he's very comforting. I was grateful for that."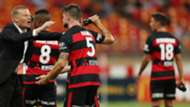 Having played briefly under a more defensive-minded Popovic, Keanu has embraced Gombau's approach.
"Definitely a big change in style, I enjoy it a lot," he said.
"I'm playing and he's given me a chance.
"I like the style he plays, it's attacking and it's exciting."
Exciting a word also very applicable to Keanu himself as he starts to shine under a coach that clearly sees his potential.