Everton
How Everton could line up should Rooney return from Manchester United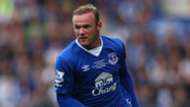 Having slipped down the pecking order at Manchester United and turned down the opportunity to head for China, Wayne Rooney has a big future call to make this summer.
He is club captain and the all-time leading goalscorer at one of world football's most prestigious clubs, but at 31 years of age he wants more than a bit-part role.
That is his destiny should he decide to remain at Old Trafford, with Jose Mourinho a fan of the England international but aware that he cannot afford to rely on fading figures.
Rooney may not be of the required standard at United any more, with top talents blocking his path at every turn, but that is not to say he is a spent force.
Far from it in fact, with talk of a possible return to his roots at Everton making a lot of sense – with Goal understanding that Rooney is open to making such a move.
Any fire in his belly that has been extinguished while sitting on the United bench should be rekindled as an enigmatic figure in the familiar surrounds of Goodison Park.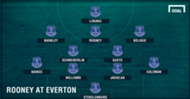 He would be heading home a vastly more experienced and rounded performer than when he left in 2004, and a man capable of operating in a variety of roles for Ronald Koeman.
Rooney is, however, a striker first and foremost, regardless of what various club and international managers would have him believe while filling a midfield berth.
'Everton Rooney snub would be wrong'
The pace and power of his youth may have ebbed away somewhat, but there is no reason why he could not be the orchestra of a European challenge at Goodison in a number 10 role.
With Romelu Lukaku's movement and finishing ability ahead of him and width in the form of Yannick Bolasie and marauding full-backs either side, Rooney would be freed to pull the strings.
His presence could also help to bring the best out of Ross Barkley, a man tipped to be his heir apparent at Everton and with England but one that has yet to fulfil his undoubted potential.