I-League
High time East Bengal issued a statement of intent and what better way than to beat Bengaluru FC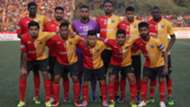 It was 2003. East Bengal were flying high as they had not only won the ASEAN Championship, they also successfully reclaimed their National Football League (NFL) crown. 

Fast forward 14 years and The Red and Golds need to look so far back in the past for their last taste of success at the top-flight football. 

For a club which boasts arguably the largest fan base across India, its pitiable that the league title has eluded them for such a long span - a span in which the NFL was rechristened the I-League, a new club was formed and that club won the I-League twice.
Khabra returns to familiar parish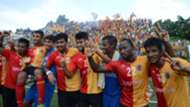 This might sound harsh and the club faithful will point to winning the Federation Cup four times and the uncountable Kolkata League titles (they are seven times consecutive champions of the local league as of now) but fact remains that the I-League silverware which East Bengal spends millions for has dodged them so far.

The need to win the titular crown has become even more paramount after their next door and fierce rivals, Mohun Bagan, managed to secure the I-League in the 2014-15 season, bringing the trophy to Kolkata before The Red and Golds could. 
The club which turns a century old in about three years however takes on a club which has just turned three years old at the top division. Yet it seems the newbie club has had the upper hand since its inception. 
Jallikattu inspires Chennai City FC

While East Bengal always had a dashing home record against  The Blues,  battering them at home, that too ended last season. Bengaluru then went on to complete the league double over them. 

In Bengaluru's three years, they have managed to win the I-League twice while East Bengal, who joined as one of the founding members, has faltered at the last hurdle many a time. Interestingly, it was during Trevor Morgan's earlier stint that the club came close, finishing runners-up twice and third once. 

Morgan's achievement of finishing as losing semi-finalists in the AFC Cup too has been toppled with Bengaluru making it to the final of the AFC Cup last season where they lost out narrowly.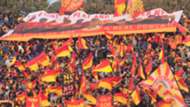 In addition, the club's crowning glory of having some of the most passionate fans across the country is also given fierce competition by the West Block Blues -  Bengaluru's equally fanatical supporters group.

It is no surprise though that after the Biswajit Bhattacharya experiment, a move which was implemented to emulate Sanjoy Sen's success at Mohun Bagan, went awry, it was Morgan who was called to salvage their pride in what could very well be the last season of the I-League. 
Morgan's diamond needs polishing at East Bengal
Although its still early stages of the campaign with all teams having played just three out of their 18 league games, East Bengal already find themselves two points adrift of Bengaluru FC and Mohun Bagan. It is the perfect time for the Kolkata giants to send out a statement of intent. 

And what better way than to beat Bengaluru FC. Not only will that be a necessary morale boost that would also propel them to a string of better results.  A Blues win at this stage would mean that Morgan's side would be a massive five points behind the league leaders - a gap that might practically be insurmountable seeing the composition of the fixture list. 
With East Bengal going through a sea of changes besides a new management, changing all their foreign recruits besides a fair few Indian signings - the excuse of the team gelling as the league progresses - will not quite cut it, given the length of the competition. 
A tiring win against DSK Shivajians and a victory against Churchill, courtesy two set piece goals, might have enabled them to put up points on the table but Albert Roca's men will be different beasts altogether, especially with their free flowing football in display against Shillong Lajong, Chennai and Mumbai.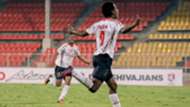 What Morgan and co. will however take solace from is that Bengaluru too have not faced quality opposition and have a couple of new players that need to gel. How quickly the likes of Willis Plaza and Wedson Anselme have made themselves integral parts of the setup and become fan favourites will also appease Morgan. 
Nonetheless, the real test awaits them at Barasat Stadium where it will be not be about points or about momentary pride - but it will put them on the right path to claim probably the only trophy that is lacking in the club's display cabinet.