Premier League
Hazard is 'back on top of the world' and Costa must stay, says Forssell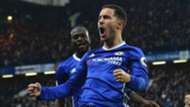 ---
EXCLUSIVE
---
Ex-Chelsea striker Mikael Forssell thinks that Eden Hazard's recovery from his poor form of last season is a huge achievement with the Belgian having helped inspire the Blues' title charge under Antonio Conte.
'I wouldn't sign Messi for free!'
Hazard went on a 356-day goal drought in the Premier League last season as his side finished 10th, but he has so far managed 13 goals in 33 appearances for Chelsea, with Antonio Conte having dramatically turned around the club's fortunes. 
Forssell, who spent five years at Chelsea, picked out Hazard as the player who has stood out for him most in Chelsea colours this season as the Belgium international prepares to compete for both Premier League and FA Cup glory with his team. 
"For me, Eden Hazard is the one I would like to pick out," he told Goal. "Every striker knows that there are circumstances in football that have an effect on your game.
"Going from being the best player in the Premier League in 2014, to what happened last season, and coming on to this season has been an unbelievable achievement.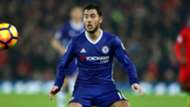 "It is never easy to lose your form and come back to the top of the world. I could have answered Diego Costa or a host of other names to the question too."
Chelsea are preparing for a London derby on Monday against West Ham after they had a prolonged break from the weekend's 3-1 win over Swansea City in the Premier League. 
Hazard scored in the opening game of the season against West Ham at Stamford Bridge, but Costa was required to score a last minute winner in Conte's first match in charge and Forssell is glad that Costa has remained at the club despite interest from China. 
Man Utd should NOT keep Zlatan
"He has been one of the most decisive players in the success this season," he added. "He is deadly in front of the goal and on top of that he works hard for the team. I hope he will stay in Chelsea for a long time.
"He fits the Chelsea team and it is difficult to find that in football. Money doesn't guarantee that fit. Of course, it is impossible to talk for another person about his motivation and motives to play for the club but I hope he will not move to China.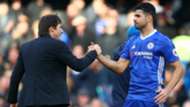 "He is great in front of goal and it is difficult to find a similar player. He has adapted well to English football and it is not easy [to do that] coming from Spain."
Now 35, Forssell remains in the game of football having played for HJK last season and he is on the lookout for a new club as he works simultaneously on his coaching badges. 
Lampard is one Chelsea's greatest - Forssell
He played under Jose Mourinho, but believes that Conte has proven since his arrival that he is one of the best managers in the world. Forssell also added that he thinks the title race isn't over as a win for Manchester City, in their game in hand, could reduce the gap at the top to eight points. 
"It is an unbelievable achievement coming to the Premier League in his first season to make such an impact," Forssell continued. "When you look at the way the team plays and have energy and how he gets the best out of players you can definitively put him up in the top five managers currently in the world.
"[Is it over?] Never say never and so I would be careful. Everybody knows that things can happen very quickly in football and so I wouldn't be popping the champagne just yet.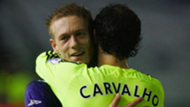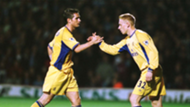 "It's a great achievement from the team though to be eight points clear and [despite saying that it is not over]. I believe no one will catch them and they will be crowned champions at the end of the season."
Forssell joined Chelsea before the Roman Abramovich era and remained at Chelsea as the Russian billionaire came in and revolutionised the club and he recently praised his former team-mate, Frank Lampard, who was honoured at Stamford Bridge at the weekend.