Australia
'Hardest thing I have ever done' - Postecoglou's relief after World Cup qualification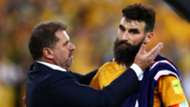 Australia coach Ange Postecoglou has called the last four years the 'hardest thing I have ever done' after securing qualification for the 2018 World Cup.
Postecoglou, who has managed Australia since Holger Osieck's sacking in 2013, can now add World Cup qualification to his resume alongside the 2015 Asian Cup triumph.
Germany & Brazil joint World Cup favs
It was a long and winding road to Russia for the Socceroos, which was finally secured by captain Mile Jedinak's hat-trick in a 3-1 second-leg win over Honduras.
"It's overwhelming to be honest, when you are coaching your own nation to burden of responsibility is even greater," Postecoglou said.
"I'm delighted for everyone - the players, the staff and the organisation. We did it the hard way and it's a credit to every one of them.
"I tell the guys if we believe in what we do and are resilient we will break most teams down. It was only a matter of time and once we got the first goal we were threatening all the time. We got the result we deserved."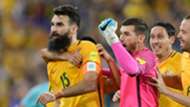 Postecoglou identified Russia 2018 as his target back in his first press conference as Australian manager, and harked back to that moment following the victory over Honduras.
"I said the day I got the job that we weren't going to take any backward steps, we were going to be bold and ambitious. That doesn't come without challenges," the 52-year-old said.
"This last four years is the hardest thing I have ever done. Where our starting point was, going to a World Cup with a rookie squad, knowing we had to win the Asian Cup then taking a group of players on a journey they had never been on before."
And, despite fervent speculation, much of it fed by Postecoglou's own comments, he refused to confirm whether or not he would stay on to lead the Socceroos in Russia next June.
"I'm going to enjoy tonight. I owe it to myself, my friends and family because they have gone on this journey with me too," said Postecoglou.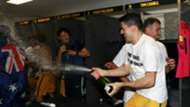 Celtic midfielder Tom Rogic was equally delighted following the result, declaring the Socceroos always had faith they would get across the line.
"This is special, at home in front of friends and family. We always thought we could get the job done," said Rogic.
"If anyone deserves it, it is this playing group and this staff. We got our rewards today."
Rogic burst onto the scene with the Central Coast Mariners back in the 2011-12 season before earning a move to Celtic in 2013, but injury has prevented the young midfielder from reaching his full potential.
"I missed the last one [World Cup] through injury but that seems like a world away now. I'm just really proud to represent my country and I have a World Cup to now look forward to," said the 24-year-old.
"We are situated all around the world and when we come here we have that pride of representing the whole of Australia. It's hard to put it into words."