AFC U16 Championship
Hamidin trumpets Malaysia's opportunity against Japan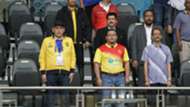 From a purely technical point of view, the Malaysia U16 squad that is currently competing in the 2018 AFC U16 Championship are not a baby of FAM. It was a project started by the previous Malaysian government with the nod form FAM.
In recent times with the change of goverment, talks have begun between FAM and the Youth and Sports Ministry on whether the National Football Development Programme (NFDP) should be reparked under the former's purview and indications are that both sides have come to an agreement towards that direction.
But putting the management of it on one side, those in FAM and the incumbent president Dato' Hamidin Mohd Amin are in full support of the team during the current tournament. 
"I've said to the players before, whether it's the U19 or U16. If you see Japan also only managing a draw against Tajikistan. So if we remained confident and played to the best of our abilities, there's no reason why we can't beat Japan."
"There's no secret to it. Japan are not bringing their senior World Cup team. The percentage from 16 to 23 are almost similar. The gap only becomes big when they are seniors. So I'm confident that we can provide a shock as long as the players give their best," said Hamidin after officiating the opening ceremony of a coaching symposium organised by Football Coaches Association of Malaysia (PJBM).
Having overseen in recent tournaments how the Malaysia U23 sides have managed to beat supposedly bigger sides like Arab Saudi and South Korea, Hamidin is hoping that the same can rub off these U16 boys.
Malaysia currently trail behind in third place in Group A behind Japan and Thailand after two matches played. The Young Tigers need a win in the final match against Japan to avoid an early exit from the competition they are hosting.
Follow Goal Malaysia on Instagram
 

 

A post shared by Goal Malaysia (@goal_malaysia) on Sep 24, 2018 at 7:24pm PDT