Asian Cup Qualification
Hadin returns to the national team, Beto receives call-up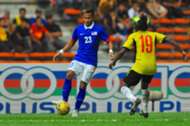 ---
BY        ZULHILMI ZAINAL       Follow on Twitter
---
Malaysia head coach Nelo Vingada has made final changes to the squad that he will take to Thailand for the Asian Cup qualification group matches against DPR Korea.
He made the decision to drop Darren Lok of Johor Darul Ta'zim (JDT) and Kedah's Baddrol Bakhtiar, after both had been injured while taking part in the Malaysia Cup final match last Saturday. Meanwhile JDT defender Junior Eldstal had been exempted from the matches for personal reasons, despite having been listed earlier.
The Portuguese coach however has decided to replace them with only two players; Felda United winger Hadin Azman and Perak midfielder Ahmad Khairil Anuar Ahmad Zamri.
Hadin last played for the Malayan Tigers in a friendly against the Philippines back in March which ended in a 0-0 draw, whereas for Khairil, who is also known as Beto, it is his first Malaysia senior team call-up.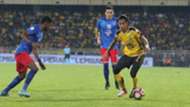 Ahmad Khairil Anuar Ahmad Zamri. Photo by Perak TBG Facebook
The team will depart for Buriram, where the two ties will be played in, on Tuesday. The matches will be held at the I-Mobile Stadium on November 10 and 13 respectively, with DPR Korea as the designated hosts for the earlier clash, and Malaysia 'hosting' the latter encounter.
Interestingly, squad members from recent Malaysia Cup winners JDT were absent from the Monday evening training session at the Wisma FAM in Kelana Jaya, as they had not arrived. Squad members from Malaysia Cup finalists JDT and Kedah had been scheduled to join the training camp on Monday. However, the only Kedah player in the squad; Syafiq Ahmad was present during the training session.
The full 23-man squad:
| | | | | |
| --- | --- | --- | --- | --- |
| NO | NAME | AGE | POSITION | CLUB |
| 1. | Safiq Rahim | 30 | Midfielder | Johor Darul Ta'zim |
| 2. | Ahmad Hazwan Bakri | 26 | Attacker | Johor Darul Ta'zim |
| 3. | Nazmi Faiz Mansor | 23 | Midfielder | Johor Darul Ta'zim |
| 4. | Safawi Rasid | 20 | Midfielder | Johor Darul Ta'zim |
| 5. | Fadhli Shas | 26 | Defender | Johor Darul Ta'zim |
| 6. | Fazly Mazlan | 24 | Defender | Johor Darul Ta'zim |
| 7. | Izham Tarmizi Roslan | 26 | Goalkeeper | Johor Darul Ta'zim |
| 8. | Afiq Fazail | 23 | Midfielder | Johor Darul Ta'zim |
| 9. | Kunanlan Subramaniam | 31 | Defender | Johor Darul Ta'zim |
| 10. | Azrif Nasrulhaq Badrul Hisham | 26 | Midfielder | Johor Darul Ta'zim |
| 11. | Hafizul Hakim Khairul Nizam Jothy | 24 | Goalkeeper | Perak |
| 12. | Shahrom Abdul Kalam | 32 | Defender | Perak |
| 13. | Nazirul Naim Che Hashim | 24 | Defender | Perak |
| 14. | Amirul Azhan Aznan | 24 | Defender | Perak |
| 15. | Ahmad Khairil Anuar Zamri | 22 | Midfielder | Perak |
| 16. | Wan Zack Haikal Wan Nor | 26 | Midfielder | Felda United |
| 17. | Hadin Azman | 23 | Midfielder | Felda United |
| 18. | Kiko Insa | 29 | Defender | |
| 19. | Nor Azam Abdul Azih | 22 | Midfielder | Pahang |
| 20. | Khairulazhan Khalid | 28 | Goalkeeper | |
| 21. | Adam Nor Azlin | 21 | Defender | Selangor |
| 22. | Syafiq Ahmad | 22 | Attacker | Kedah |
| 23. | Syamer Kutty Abba | 20 | Midfielder | Pulau Pinang |