Ghana
Gyan eyes more years with Ghana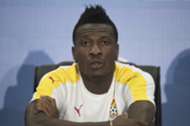 Ghana captain Asamoah Gyan believes he can continue with his international career after recovering from a troublesome knee injury.
The former Sunderland striker has recently struggled with fitness, which limited him to just two games with the Black Stars in 2016 and three starts at the 2017 Africa Cup of Nations in Gabon.
Since June 2015, Gyan has scored only once for Ghana, his worst run in the national team colours.
He has come under pressure to quit international football as a section of Ghanaians believe he has passed his prime.
"I still have more time to play for Ghana. I am still active and have the energy although it is not like before. However I can still play more games," Gyan told Otec FM.
"As I indicated, there are more time for me and I am just hoping for good health and an injury free era. These are the things that can help me last longer in the game," he added.
Gyan is Ghana's most capped player and all-time topscorer, with 101 appearances and 49 goals under his belt. The 31-year-old made his debut against Somalia in 2003 in the 2006 Fifa World Cup qualifiers and played an integral role as the team qualified to the tournament for the first time.
He is Africa's all-time topscorer at the Fifa World Cup with seven goals, one goal better than Cameroon legend Roger Milla, and has played in six Africa Cup of Nations tournaments.