Australia
The cruel reason why Guus Hiddink left Ljubo Milicevic out of the Socceroos 2006 World Cup squad
As far as football personalties go, they don't come much different than Guus Hiddink and Ljubo Milicevic.
One a disciplined Dutch coach, the other a laid back Australian defender - and their coming together in 2005 saw a player's World Cup dream cruelly shattered.
After being called up to the Confederations Cup under then coach Frank Farina to play against Argentina and Germany, Milicevic looked likely to secure a spot in the Socceroos squad for the 2006 World Cup.
Despite playing Champions League football for FC Thun in Switzerland, Milicevic found himself quickly in the cross hairs of Hiddink for the way he had been deployed by Farina against Germany.
"He pretty much blamed me for every goal saying I was out of position, but he didn't know that I was told to man-mark Ballack," Milicevic told Goal.
"So all of a sudden my first camp with Hiddink and I'm copping it and I'm like 'damn, this guy doesn't know' and no-one's telling him either.
"It was interesting, my performance wasn't that bad but I was made to feel really shit…but I quickly learned that was Hiddink's vibe anyway. 
"He made the people who didn't really matter feel pretty low in a way…it wasn't cool. Where as the ones he really needed, I don't have to mention names, it's obvious, he sort of sucked up to."
As far as World Cups go, 2006 was a big one to miss as the Socceroos scored their first goal, claimed their first win and made an unlikely progression to the round of 16.
While the wounds of missing out have healed over time, Milicevic admits back then his omission truly hurt and it's one he still can't wrap his head around. 
"It was pretty shattering at the time," he said.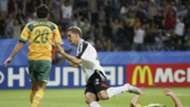 "There was no way of justifying it, at all, there still isn't.
"You can't justify taking players that haven't played for four, five months over a player that's playing Champions League and the UEFA Cup in Europe."
Check out Ljubo's first full interview with Goal above and stay tuned for more insights from him across the 2018 World Cup.