Arsenal
Guendouzi 'a very big, positive surprise', admits Arsenal boss Emery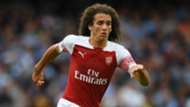 The impressive form of Matteo Guendouzi has come as a "very big, positive surprise" at Arsenal, manager Unai Emery has admitted.
Signed from French second-tier side Lorient in the summer for around £7 million ($9.4m), little was expected of the 19-year-old yet he has started both of the Gunners' Premier League fixtures, defeats against Manchester City and Chelsea.
During these encounters, he has, however, been one of the most eye-catching players for his side and is expected to feature from the outset against West Ham.
Even Emery did not dare to predict such a level of success so rapidly.
"It is a very big, positive surprise with him," he said. "He is improving. He is playing and working every day. He is hungry - he wants to improve, he wants to learn every day, every match. He is doing it his way, with character and quality. We are very happy with him but every match is a chance to show this progress with consistency."
The deal to sign him for Lorient was one driven by the existing staff of the club rather than the new manager, the Spaniard confessed.
"The club had worked and watched him, we agreed and when he arrived here – not the first day, which was very difficult – but after two weeks we spoke and said: 'His performance is a very big surprise'. In each training session and match we need him to show this progress consistently," he said.
"Today, he is progressing like the first two weeks, very positive."
Guendouzi, meanwhile, is aiming for the stars, bullish over Arsenal's chances of winning silverware this season, despite a slow start to the campaign.