A-League
Graham Arnold: Sydney FC still the greatest ever A-League team and I'll be back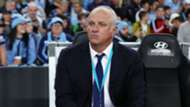 Graham Arnold's four-year tenure at Sydney FC is over after Melbourne Victory spoiled a fairytale farewell defeating the Sky Blues 3-2 in extra time.
The Sydney FC coach will remain at the club for another week before a brief holiday and then taking charge of the Socceroos after the 2018 World Cup.
Though his time at the club ended in defeat, Arnold's rein at the club was incredibly successful with the Sky Blues becoming the first A-League side to win consecutive Premiers Plates.
As such he believes he created something particularly special at Sydney FC. 
"To dominate the competition the way we have the last two seasons, I still believe even with this result we're the greatest team the A-League has seen," Arnold said.
"Stats have shown it. We've created history by breaking so many records.
"It's been an honour and a privilege to coach these players."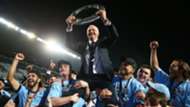 Announced as Bert van Marwijk's long-term Socceroos coaching replacement, Arnold admits the past few months have been difficult as a result and vowed he'll back at Sydney FC in the future.
"It's been a strange feeling for me for the last two-and-a-half months of having to continue," he said.
"It wasn't an easy time to be announced as the national team coach but still stay to work.
"I put in more hours than I normally would." 
"I've had four wonderful years here and two grand finals along with a semi-final now ... I will be back at Sydney FC one day."